✅ Support a clean, thriving digestive system–Sea Moss 1 Day Cleanse is the first of its kind, a powerful Sea Moss based detox that's fused with Aloe Vera, Burdock Root, Slippery Elm, Milk Thistle, Dandelion Root, Papaya Leaf and Ginger.
✅ Full body cleanse in 1 day–Full Body Detox to Support Bowel Movements, Kidney Health, Liver Health, Gut Health, Immune Health and Energy Levels
✅ Help eliminate toxins and bloating–May help remove toxins from the body that lead to bloating, gas and indigestion. Get your gut health back in check.
✅ Support the cleansing of your colon, kidneys, liver, gallbladder and blood.
🍋 Delicious Lemon Flavor | 8 fl oz. | 1 Serving per bottle
Regular price
$24.99
Sale price
$19.99
Unit price
per
Sale
Sold out
Share
View full details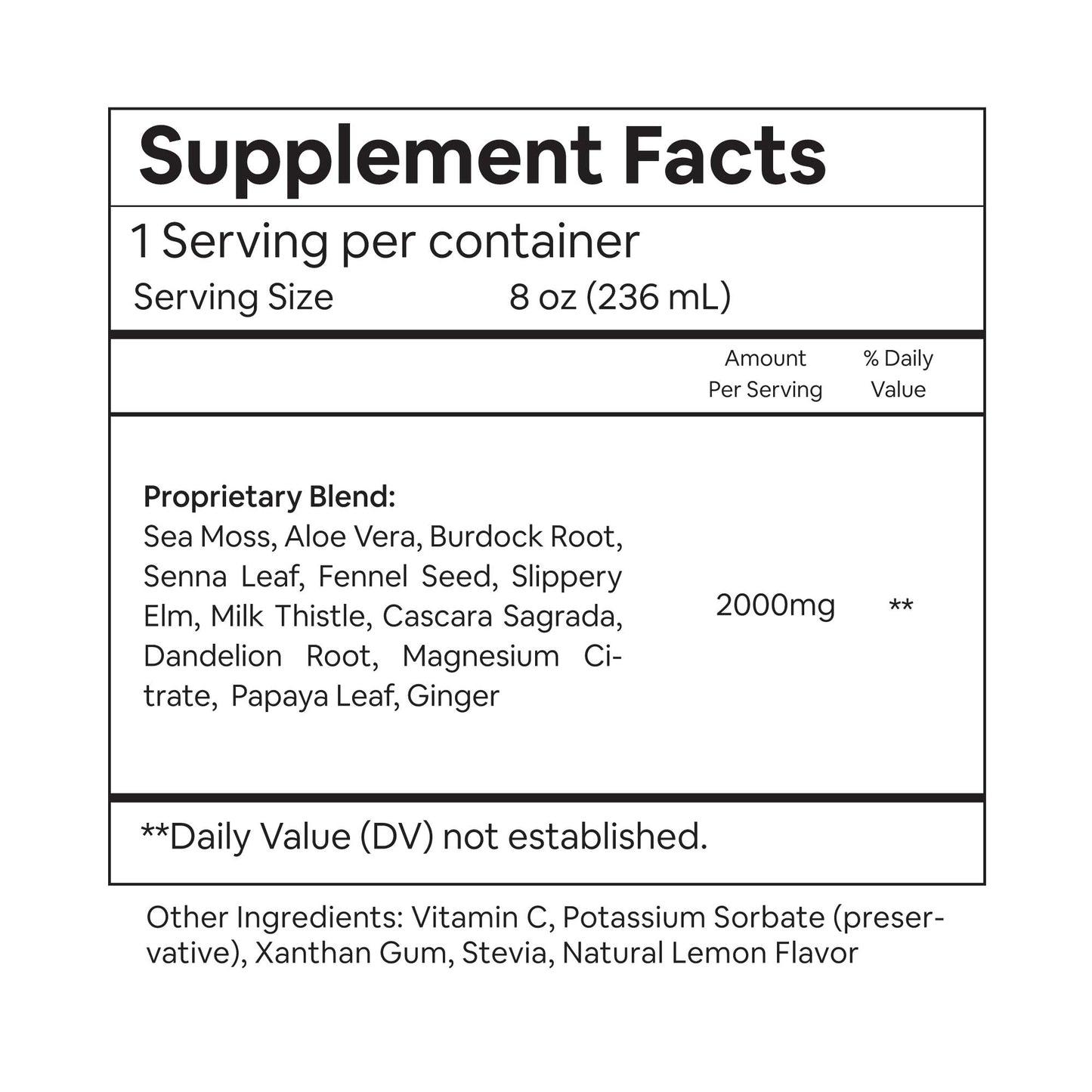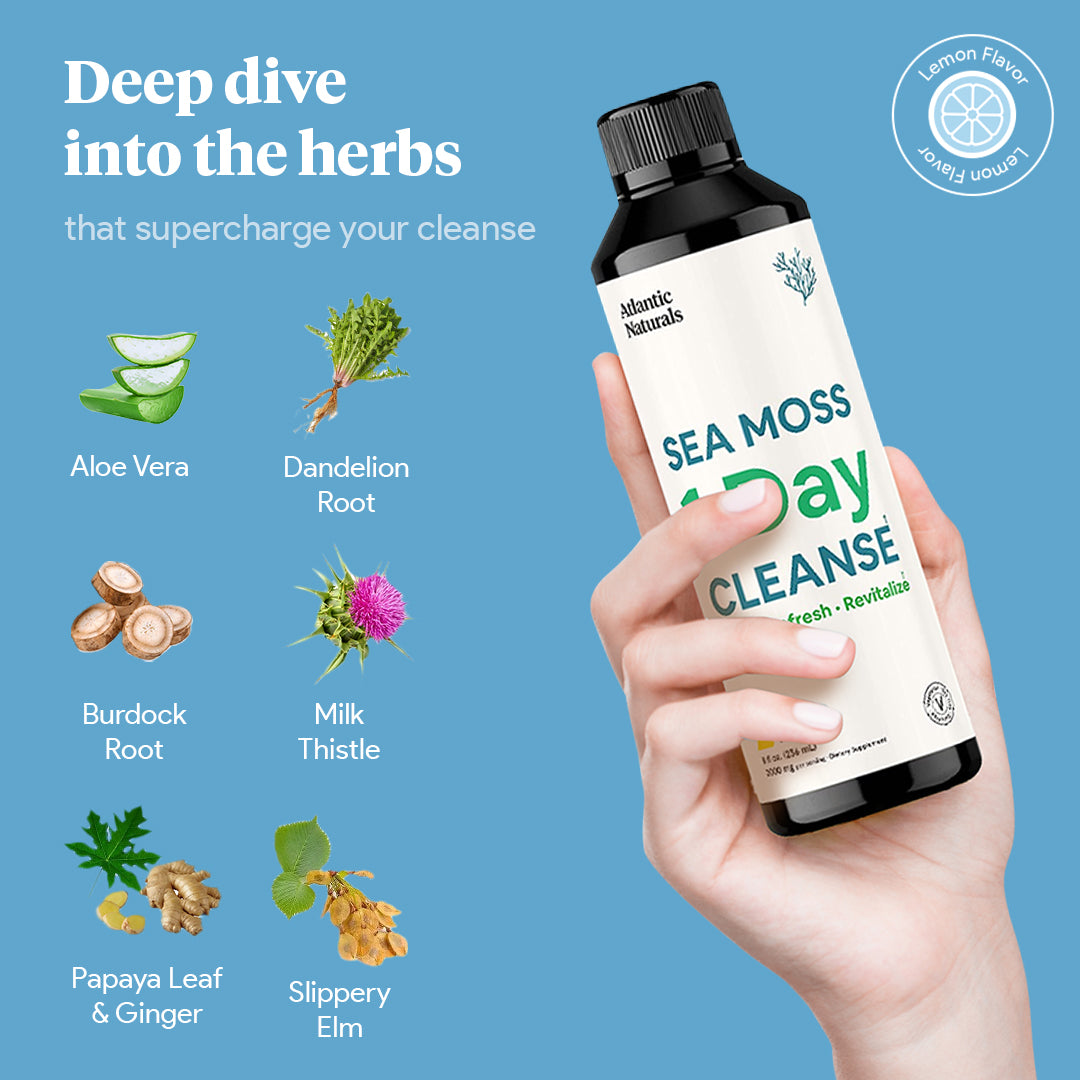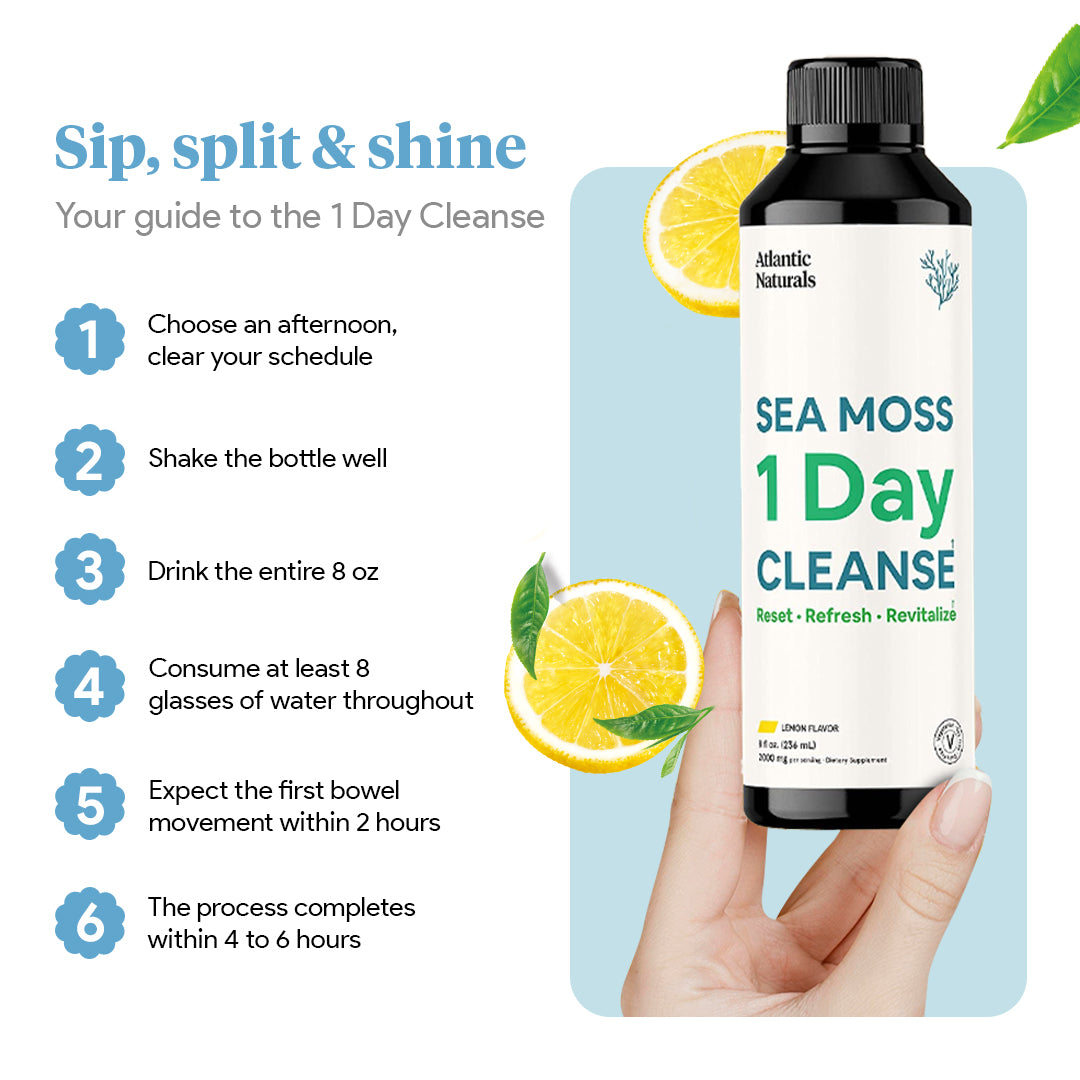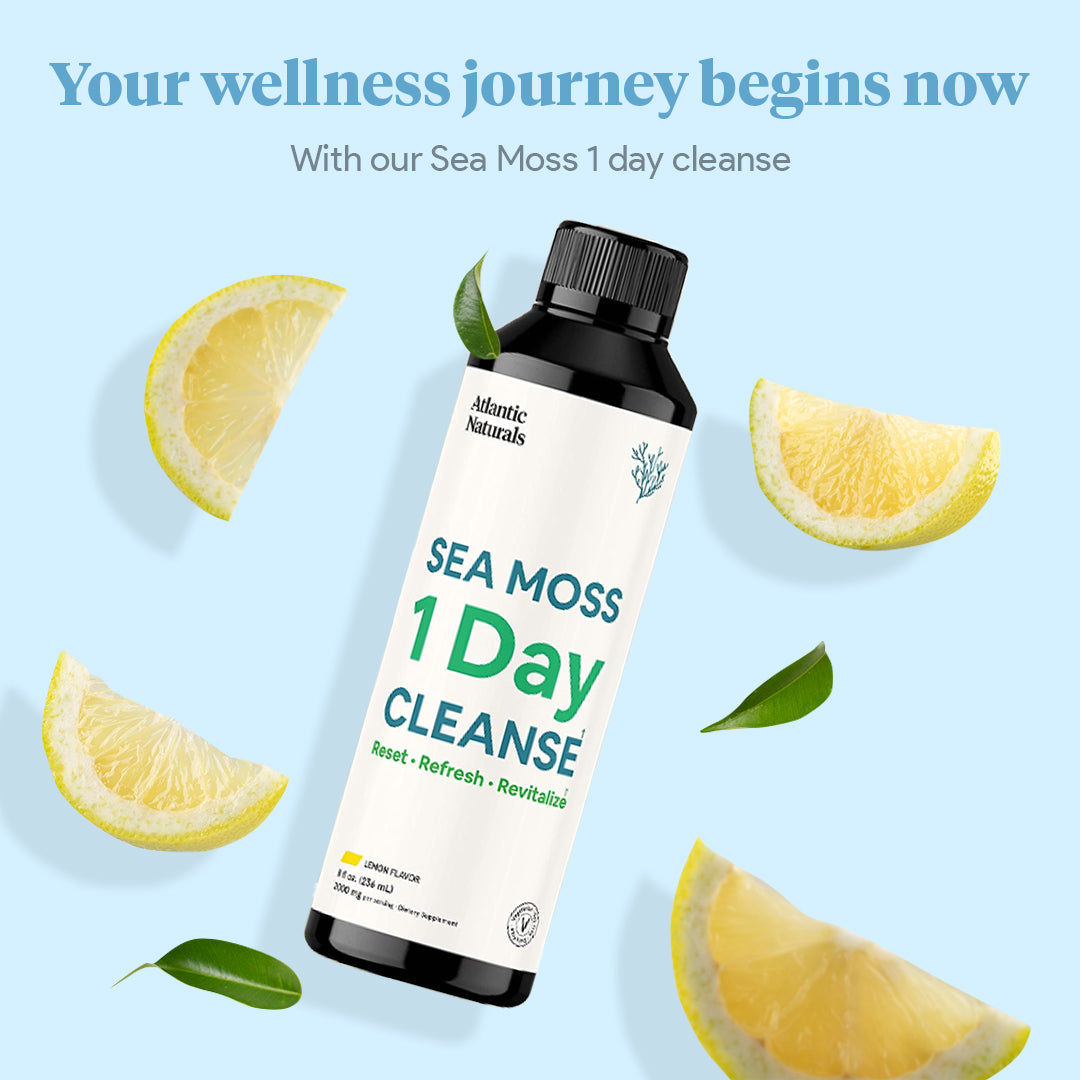 Reset. Refresh. Revitalize.
Highlights

Unleash the power of natural cleansing with our Sea Moss 1 Day Cleanse! This unique formula combines the benefits of Sea Moss with other powerful herbs, including Burdock Root, Dandelion Root, Milk Thistle, Papaya Leaf, Slippery Elm, and Ginger, to support a thorough cleanse of the colon, kidneys, liver, gallbladder, and blood. With its potent combination of ingredients, our cleanse promotes a healthy digestive system, removes toxins, and boosts overall wellness. Simply drink the whole bottle on your day off–Say goodbye to bloating, sluggishness, and impurities, and hello to a renewed, revitalized body with our Sea Moss 1 Day Cleanse.
How to use

Drink the whole bottle on your day off, or split it into two 4oz servings. Consume lots of water throughout the process to support cleansing and keep your body hydrated. Expect the first bowel movement within 2 hours. The process should complete in 4-6 hours total.
Ingredients

Sea Moss, Aloe Vera, Burdock Root, Slippery Elm, Milk Thistle, Dandelion Root, Magnesium Citrate, Papaya Leaf, Ginger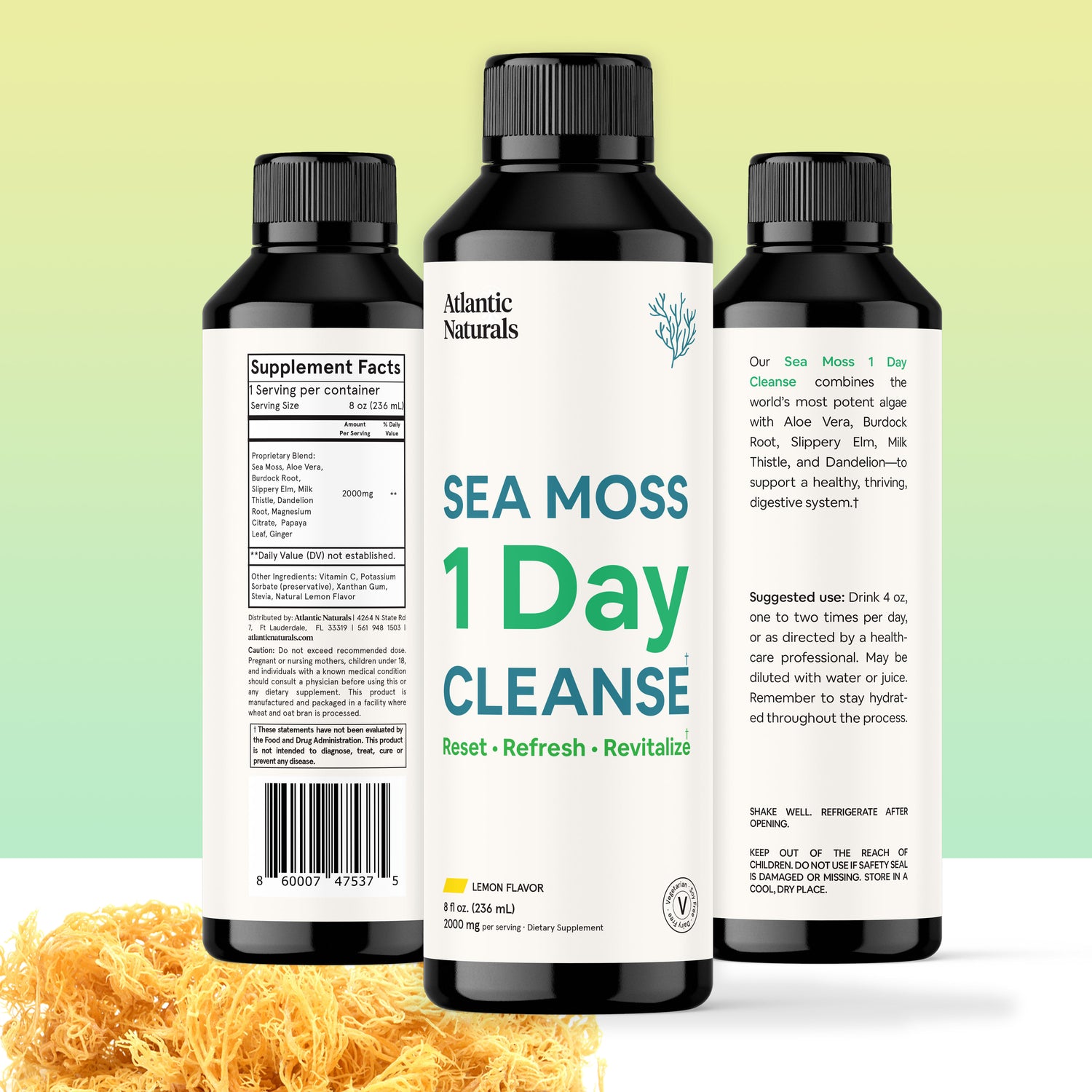 Tastes Great. Works Fast.
Our Sea Moss 1 Day Cleanse has a lemon flavor that makes it easy to drink and rapid to work. Drink 1 full bottle on your day off and say goodbye to bloating, sluggishness, and impurities, and hello to a renewed, revitalized body with our Sea Moss 1 Day Cleanse!
Read more
Sea Moss

Packed with pre-biotic fiber, Sea Moss is ideal for cleansing the digestive system and promoting bowel movements. In addition, Sea Moss is abundant in Potassium Chloride, Chlorophyll, and Omega 3. These ingredients are known to help to dissolve excess mucus in the body and soothe the broncial system.

Read more

Burdock Root

Research has shown Burdock Root to support cleansing of the blood and lymphatic system. In addition, Burdock Root is a natural diuretic–meaning it helps to eliminate excess fluid from the body. This may lead to the removal of excess waste from the kidneys, liver and blood.

Read more

Dandelion Root

When it comes to cleansing, Dandelion Root is one of the best herbs to support Kidney, Liver and Bladder health. Packed with anti-bacterial, anti-fungal, and anti-inflammatory properties, this superherb is a must-have. In addition, research has shown compounds in Dandelion Root to support healthy, beautiful skin.

Read more
Frequently Asked Questions
How long before it starts working?

The first bowel movement usually happens in about an hour and a half
How many bowel movements should I expect?

You're likely to have 3-4 bowel movements in a few hour span. It depends on how backed up your digestive system is.
How often should I use the Sea Moss 1 Day Cleanse?

You can use it every month if you desire. It really depends on your diet and how healthy you eat.
What does it taste like?

It tastes like a lemon flavored herbal tea, but a little bit thicker because of the Sea Moss.
How much should I drink?

You should drink the whole bottle along with at least 5 glasses of water. Always stay hydrated when cleansing.
Will I lose weight?

Most people lose a few pounds, as they can carry up to 25lbs of toxic waste in their colons.
30 Day Money back Guarantee
Your happiness and satisfaction with the product is of the utmost importance to us. If for any reason, you're not satisfied with the product, please let us know and we'll issue you a full refund!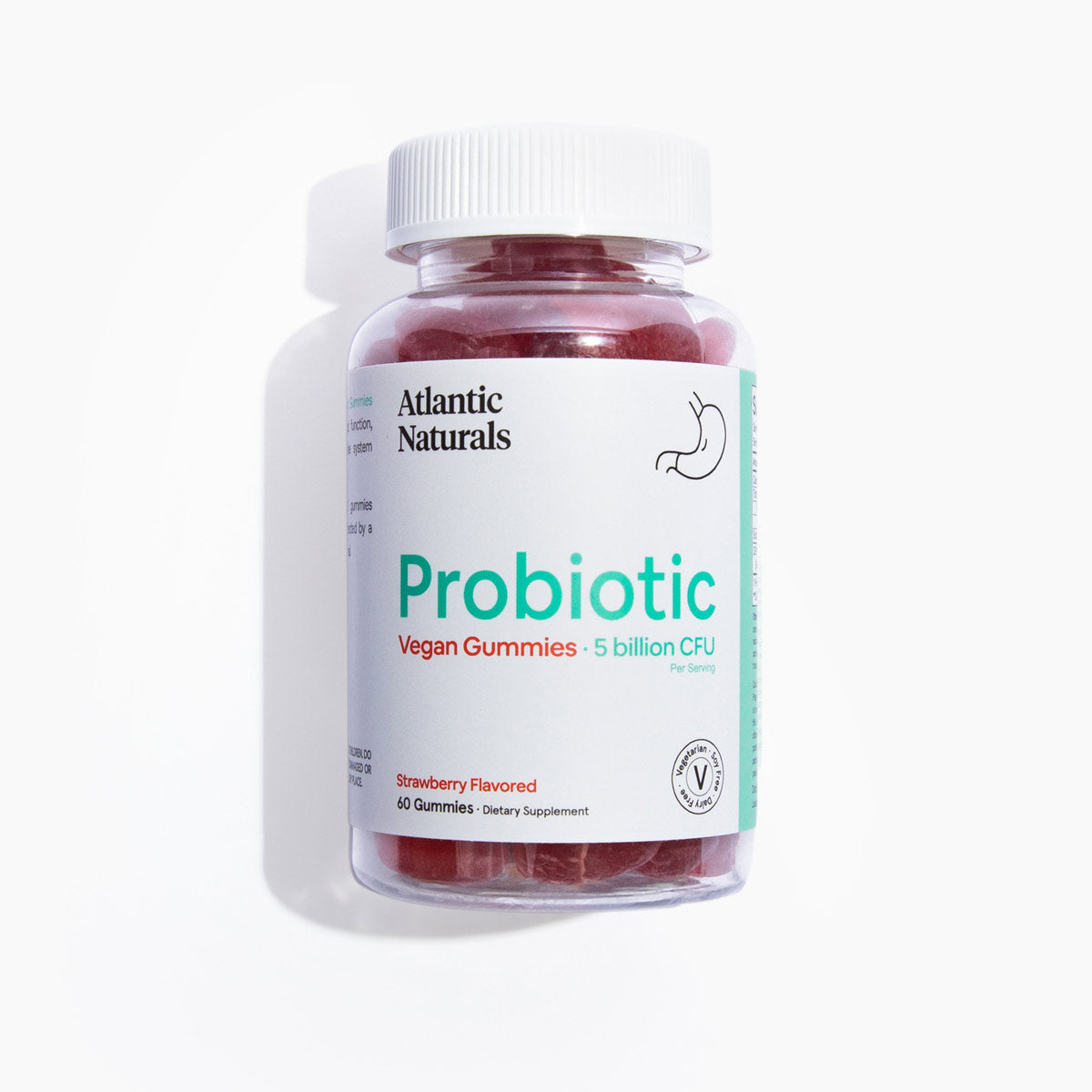 Pair with Vegan Probiotic Gummies
When cleansing, you may lose both good, and bad bacteria, out of your digestive system. Combine this detox with a probiotic to replenish good bacteria and support a healthy gut and better digestion.
View now
It works!
The 1 day cleanse is a great product. My system was messed up after taking iron supplements. Have tried different products to get back on track but nothing has worked until I found this product. It really works. My system has been reset. I am no longer constipated and now have.regular movements daily. I recommend the cleanse to anyone who needs their system reset.
Looove
I Love the sea moss and turmeric bar soap my skin feels amazing! And the 1 day cleanse taste really good even by itself. I will be trying other products.
Good product
I did it in one day, felt good. Taste is good. I just wished it had more info on what it's recommended to eat while doing the detox. It really doesn't have any instructions or info.
Really had me feeling clean and Youthful!
The following days after I felt really good! The process was smooth and I didn't find myself running to the washroom
Best detox I had!
I really didn't mind the flavor, it reminded me of a tea due to the lemon flavor as well as the ginger. It also did its job of helping me feel refreshed and new!