• Support skin health and cell regeneration
• Support a healthy immune system
• Pre-biotics that support digestive system health
• Help dissolve excess mucus and maintain healthy fluid balance
• Support healthy thyroid function
💊 120 Vegetable capsules per bottle
Regular price
Sale price
$27.99
Unit price
per
Sale
Sold out
Share
View full details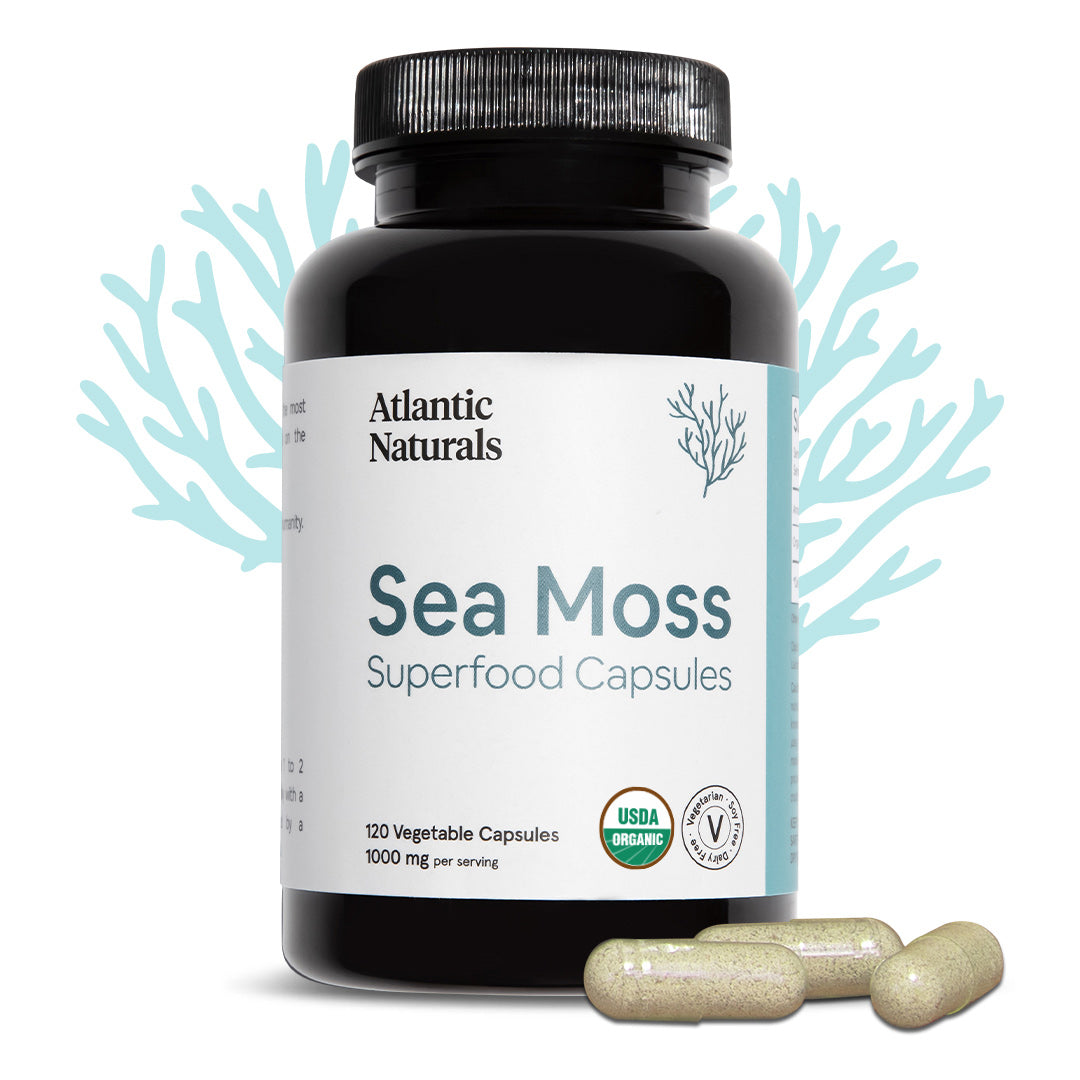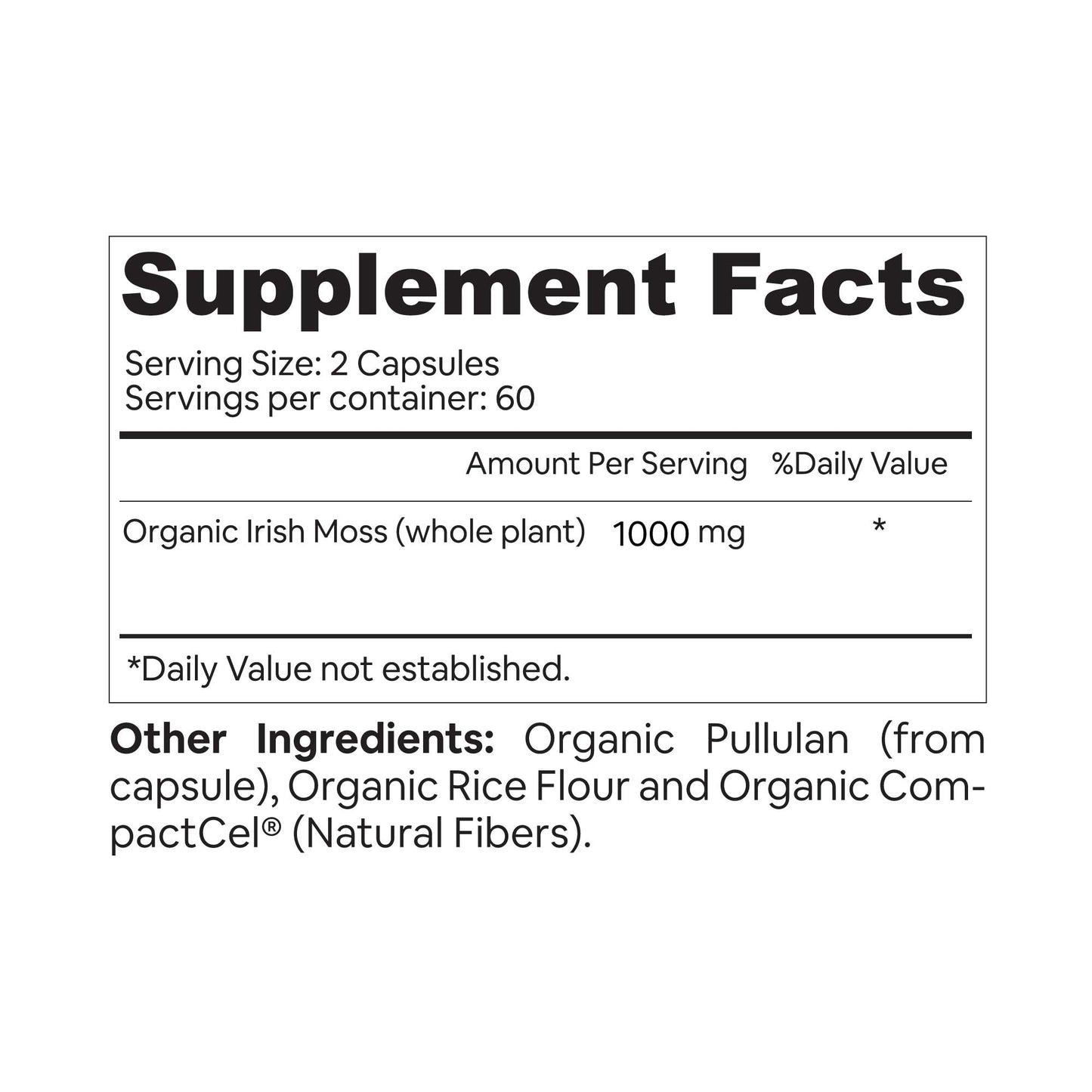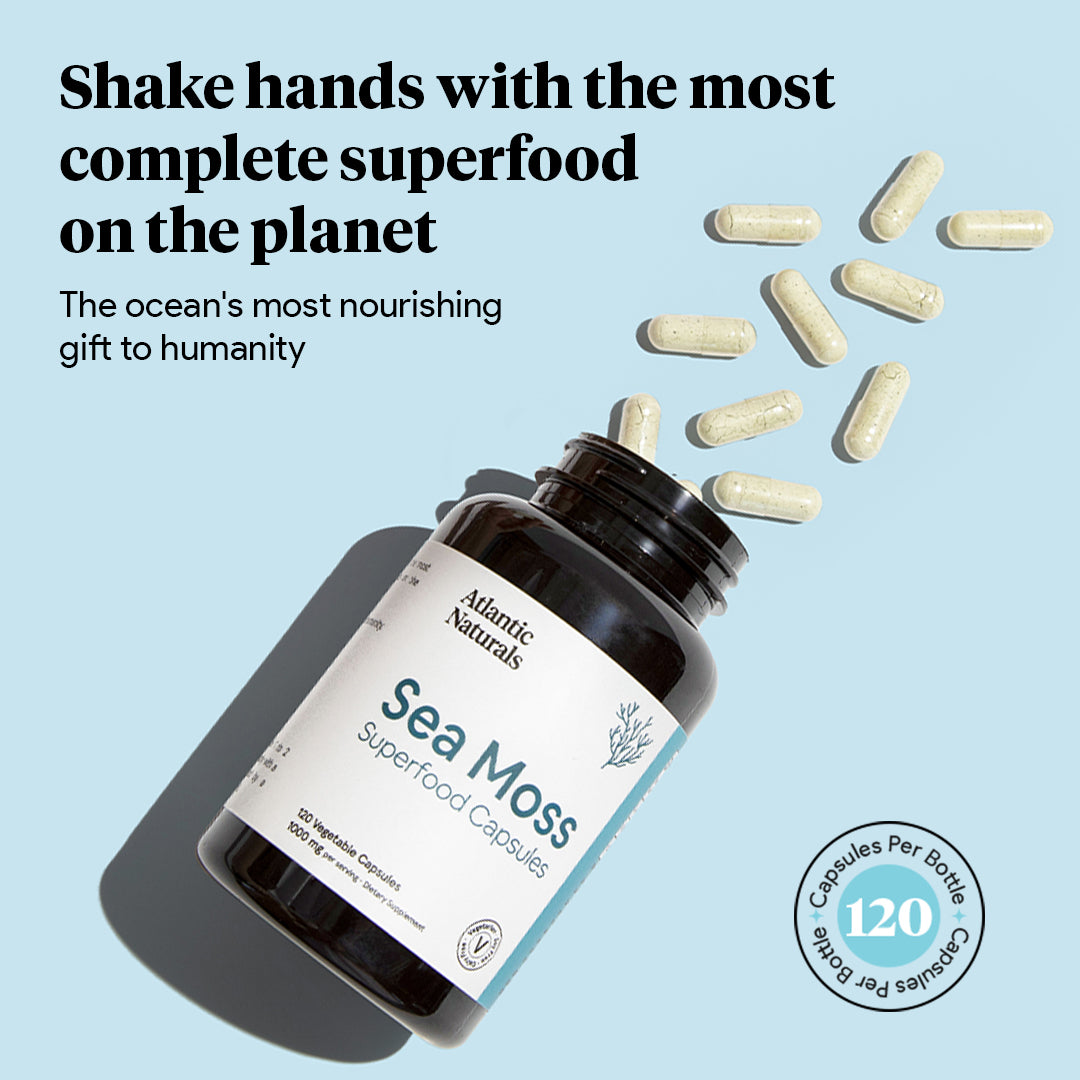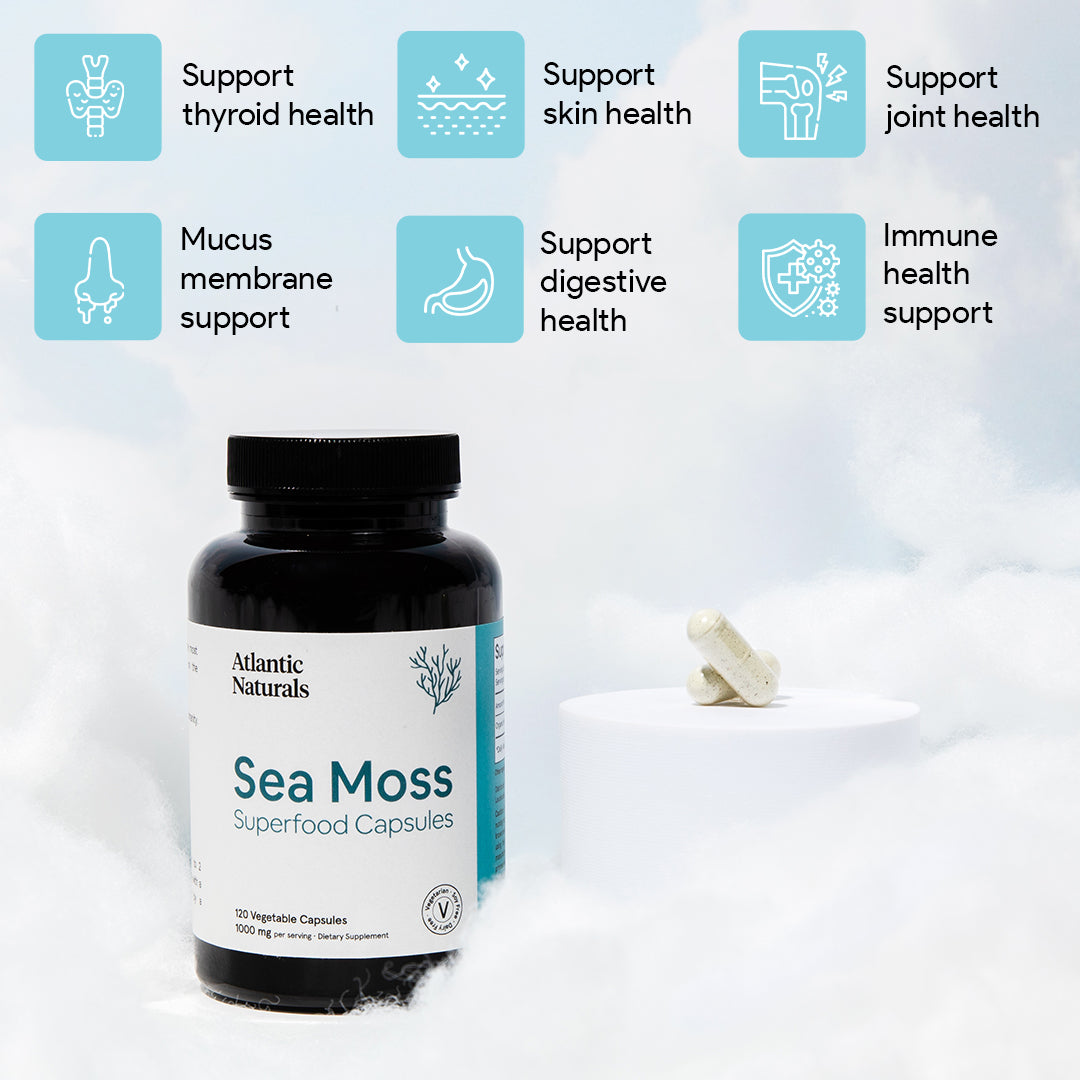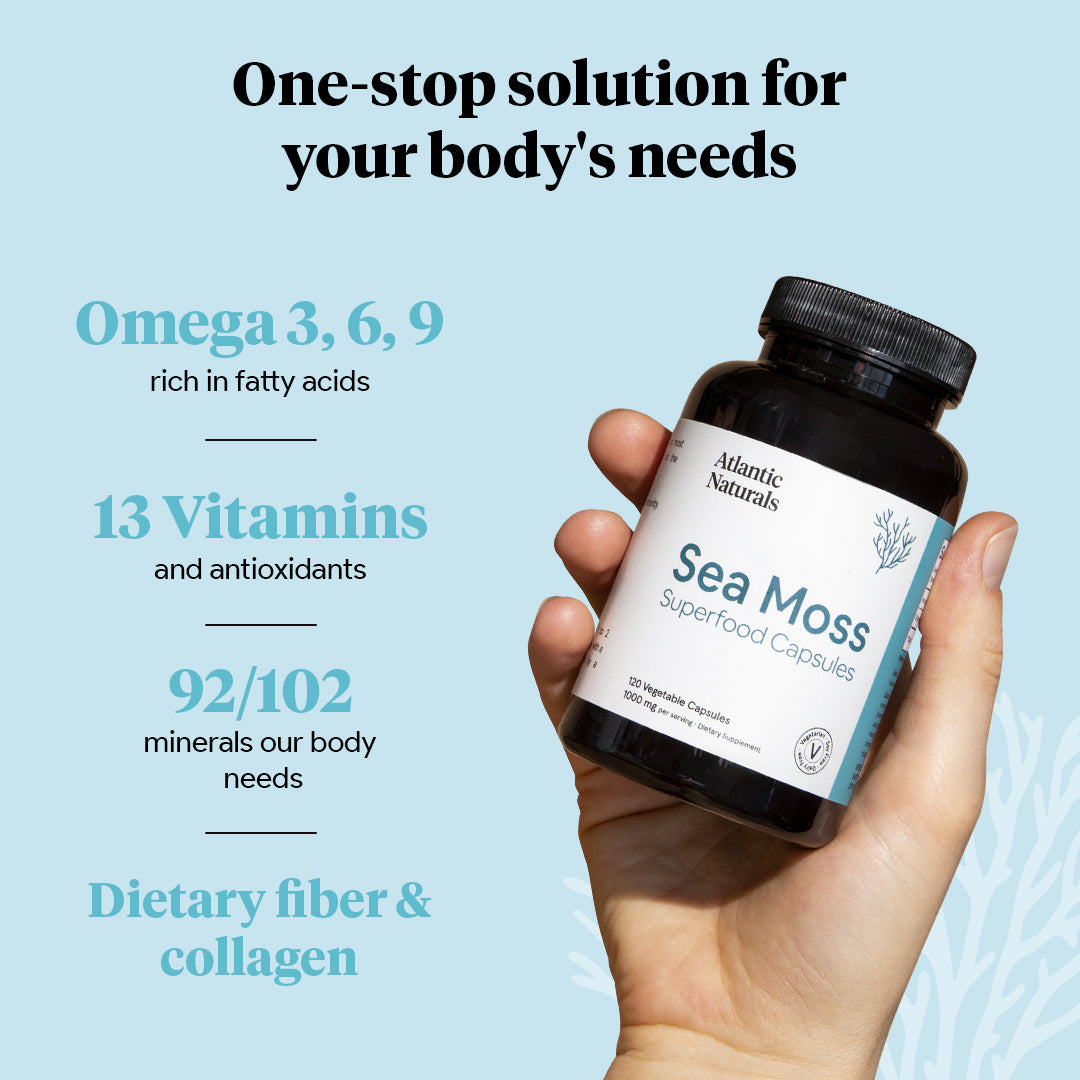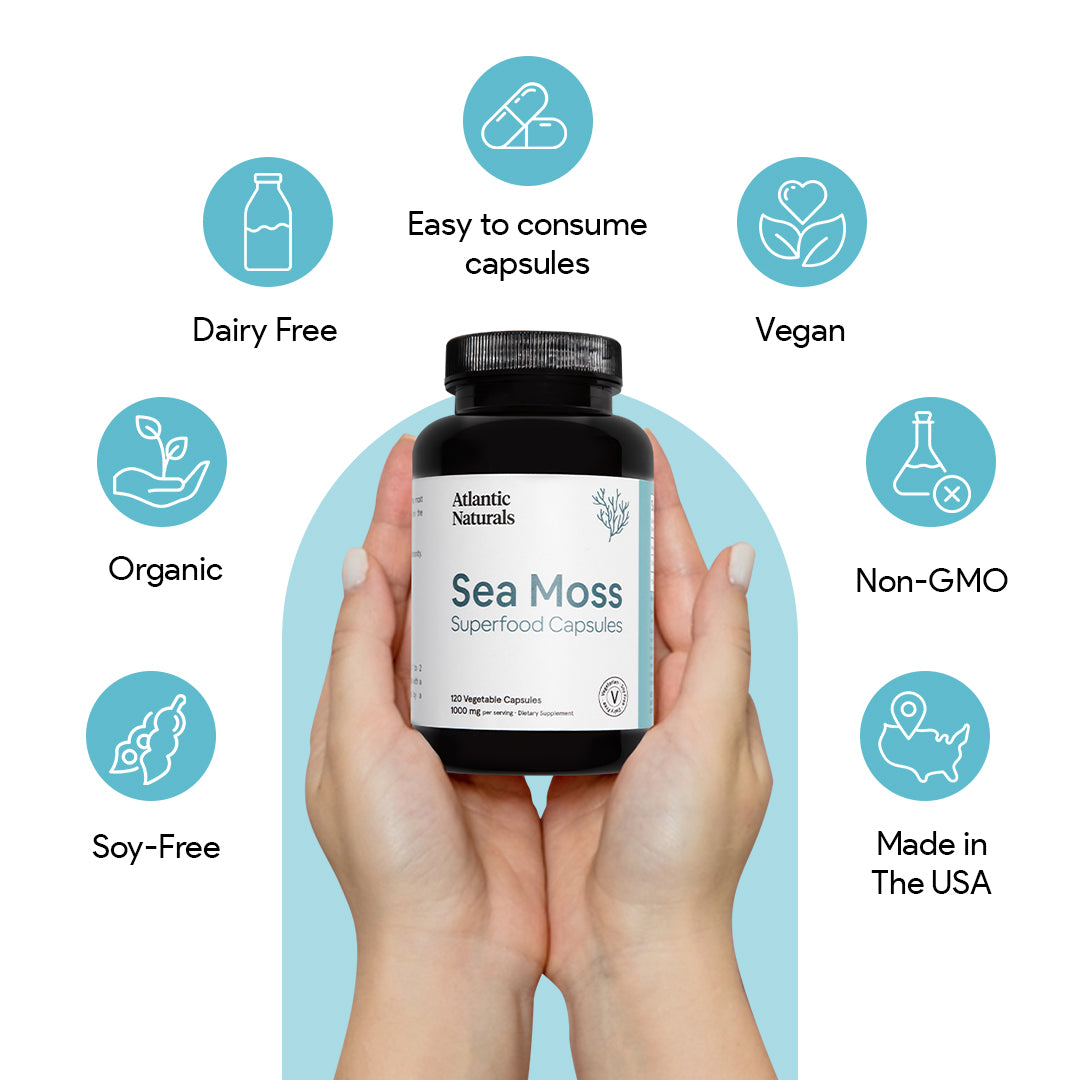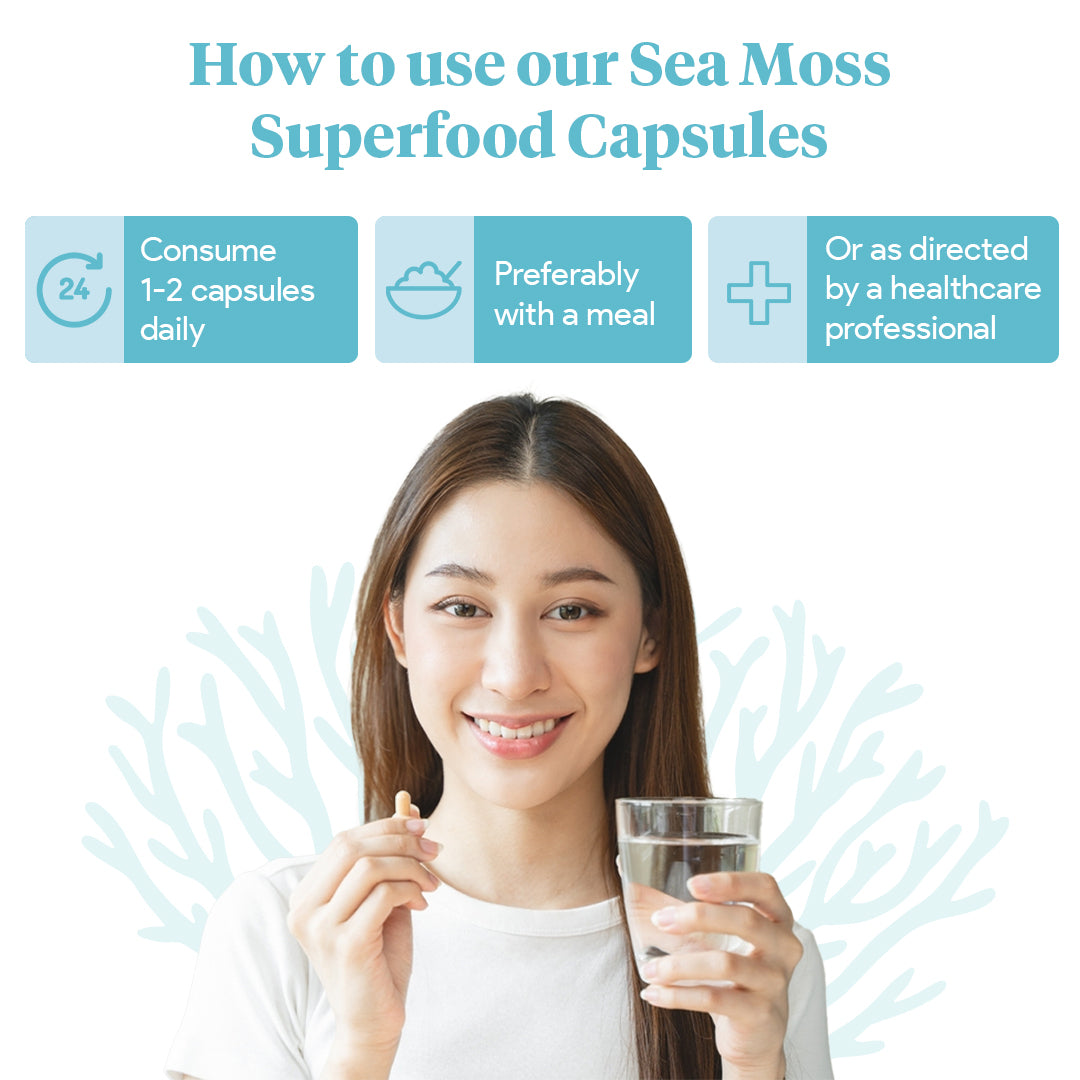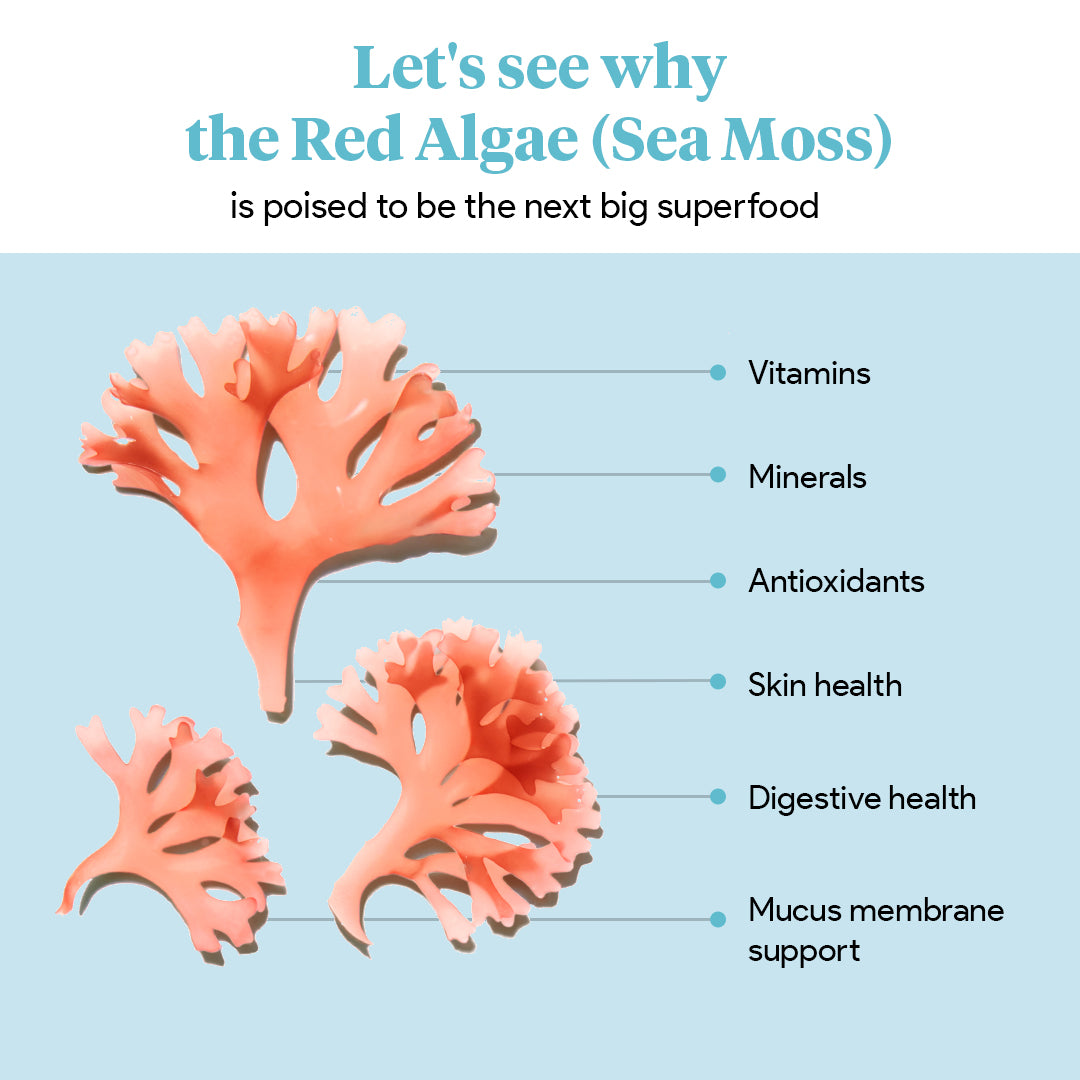 Made with wild-harvested Sea Moss.
Highlights

Poised to be the next big superfood, Sea Moss (also known as Irish Moss) has wide-ranging benefits that include healthy skin, mucus membrane support and digestive health.

Apart from its therapeutic uses, Sea Moss is packed with an abundance of minerals, vitamins and antioxidants--hence its popularity among Vegans. This red algae is so nutrient rich, one can survive for months eating only raw Sea Moss
How to use

1-2 vegetable capsules taken daily, preferably with a meal or as directed by a healthcare professional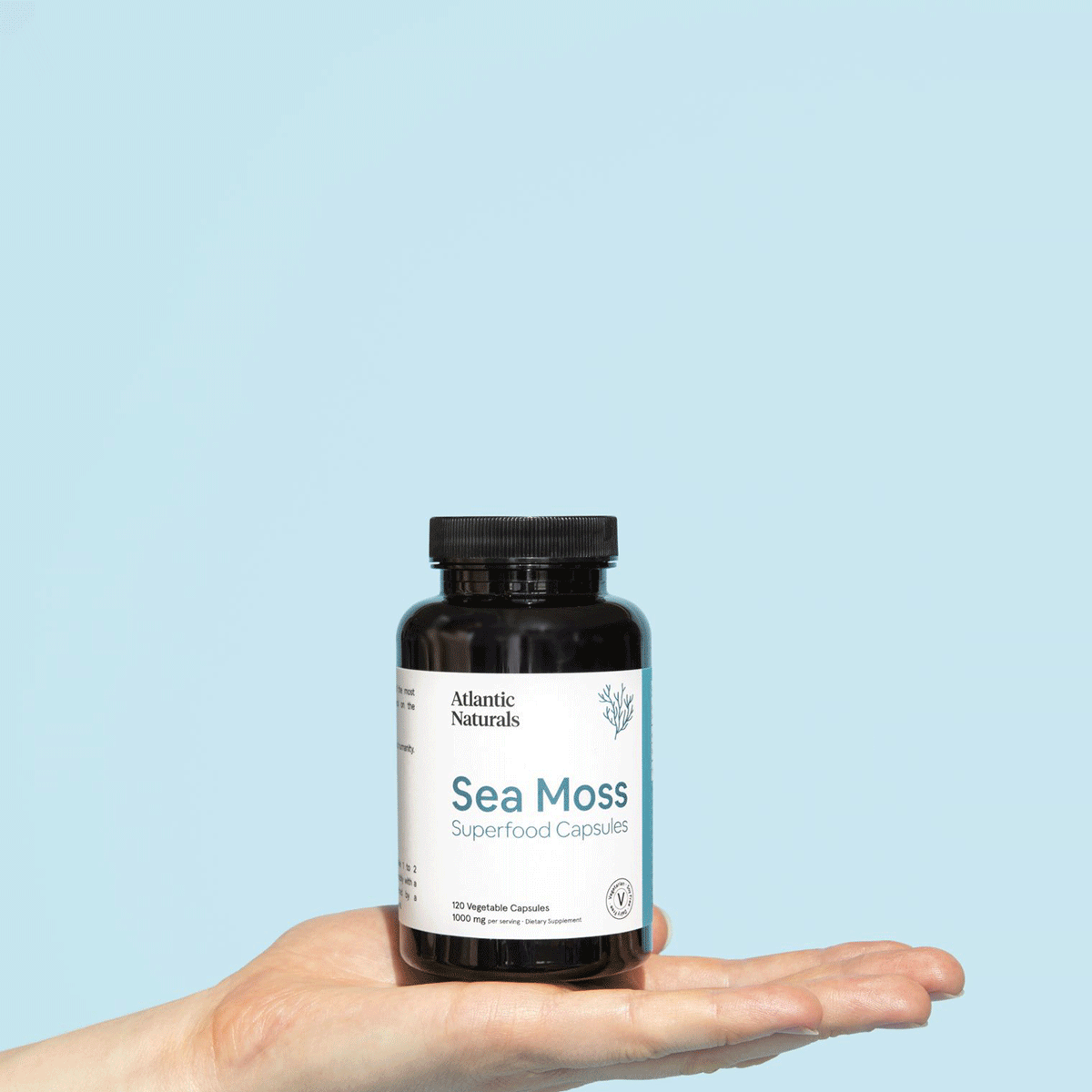 Say hello to the most complete superfood on the planet.
Very few foods are as complete as Sea Moss, what I mean by this--it contains 92 of the 102 minerals our body needs to function. This includes the macro-minerals calcium, phosphorous, sodium, magnesium, potassium, chloride, sulfur, and the trace minerals iron, copper, manganese, iodine, zinc and selenium.

In addition, Sea Moss contains 13 vitamins: Vitamin C, Thiamin, Riboflavin, Niacin, Pantothenic acid, Vitamin B-6, Folate, Choline, Vitamin A, Carotene, Vitamin E and Vitamin K.

I'm not done.....to top it off, Sea Moss is also rich in fatty acids (Omega 3, 6, 9), dietary fiber and protein.
Read more
30 Day Money back Guarantee
Your happiness and satisfaction with the product is of the utmost importance to us. If for any reason, you're not satisfied with the product, please let us know and we'll issue you a full refund!
Frequently Asked Questions
Where is your Sea Moss from?

Our Sea Moss is wild-harvested from Nova Scotia, Canada.
Is the Sea Moss in your products wild-crafted?

Absolutely! We only use wild-harvested Sea Moss in our products. It is sourced from the Atlantic Ocean in Nova Scotia, Canada.
Where are your products made?

Our products are proudly manufactured in the United States at a GMP and NSF certified facility.
Are your products vegan?

All our products are 100% Vegan and cruelty free.
Is this organic?

Yes, this product is organic. In addition, it is non-gmo, gluten free and great for the environment.
Are your products lab-tested?

Yes, every product batch is first tested for potency, and then tested for pathogens by a third party lab.
How much iodine is in your Sea Moss?

1000mg of Sea Moss which is the usual dose in our capsules contains approximately 75μg of iodine.

To put that into perspective, the recommended daily allowance (RDA) for men and women is 150μg. So our capsules should approximately supply half of your RDA.
How much iron is in your Sea Moss?

1000mg of Sea Moss, which is the dose in our original Sea Moss superfood capsules, contains approximately 2mg of iron. The Recommended Daily Allowance (RDA) for iron is as follows below:

Adult men (ages 19 to 50): 8mg

Adult women (ages 19 to 50): 18mg

Adult women (51 and older: 8mg

Pregnant women: 27mg

Breastfeeding women: 10mg
Do you guarantee your products?

Your happiness and satisfaction with the product is of the utmost importance to us. If for any reason, you're not satisfied with the product, please let us know and we'll issue you a full refund!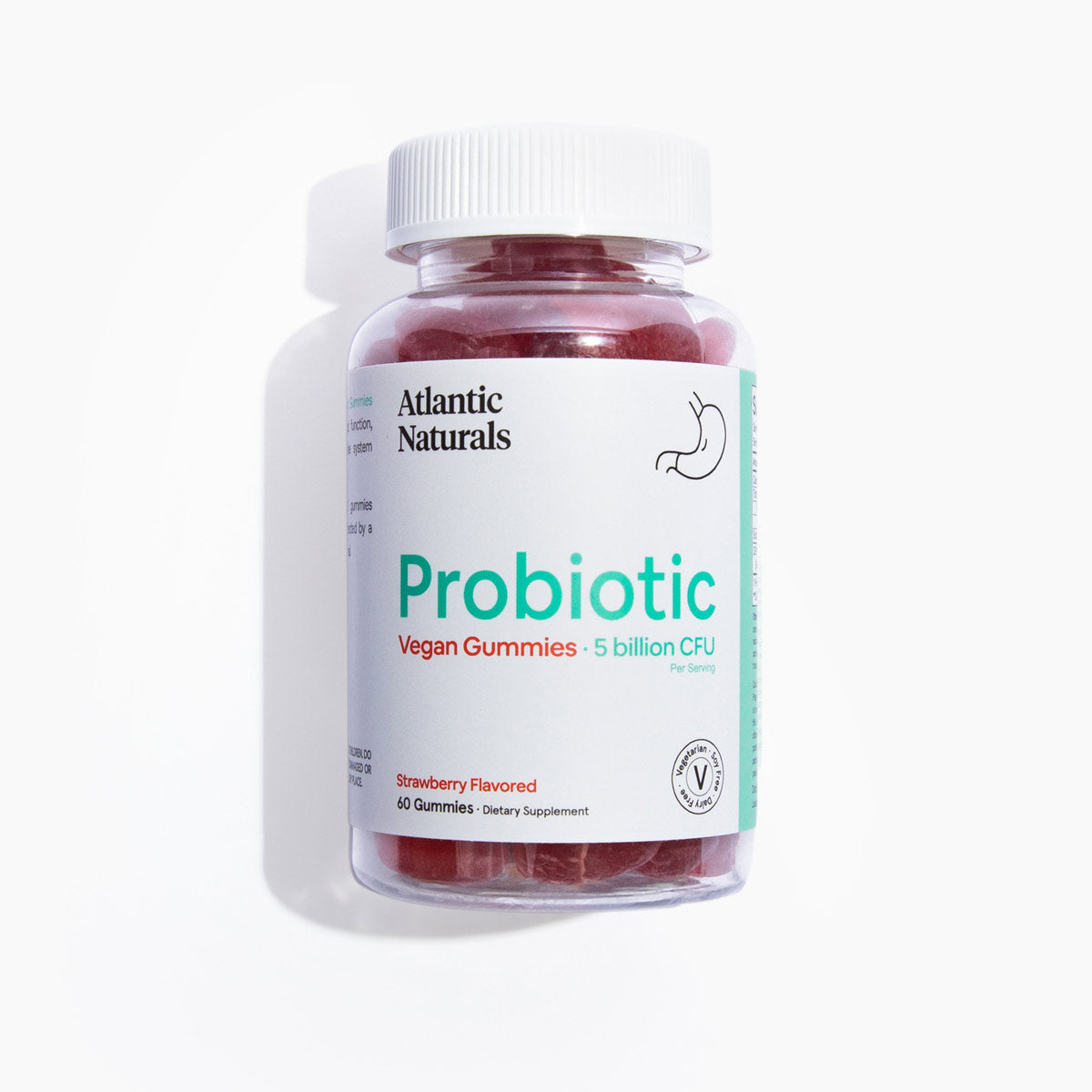 Pair with our Vegan Probiotic Gummies
As Sea Moss is packed with pre-biotics, combine it with our probiotic gummies to support digestive health and aid bowel movement.
View now
Love it!!!
I was diagnosed with PCOS in 2008 and for years have struggled with weight gain/fluctuation, mood swings, hot flashes, constantly feeling weak & lethargic. I hate meds so typically I look for holistic remedies. Over the last year my symptoms worsened & I became frustrated not finding anything to aid with my symptoms. A few friends recommended sea moss, I must say I was a bit hesitant due to my shellfish allergy, I was afraid I couldn't use sea moss because of the iodine. Upon further research I found that despite my allergy it didn't necessarily mean I had an iodine allergy so I gave it a shot. I am now on day 9 of these capsules and am extremely pleased. Aside from it completely cleansing my system, I have felt more energy lately than I have in years, my mood has been stabilized, it's reduced my bloating and literally has allowed me a much better sleep (i suffer from insomnia). I can't really speak on the hot flashes but as far as overall feeling I can honestly say I feel the difference and I absolutely love it. I would recommend to anyone with hormonal or thyroid disorders for sure.
Love this stuff!
I suffer from really bad allergies and this really helped with my sinus inflammation!
Getting My Best Life
I'm so glad someone that I have confidence in suggested this brand to me. At first, I was comparing the gel-based sea moss that several vendors are offering. I was hesitant, so this suggestion came just in time. Yes, I can feel a difference. Sometimes it's not what you're putting in your body that's causing adverse reactions, it's what a body might not have. And with 90+ minerals, I'm certain it was the latter for me. Thank you for this!
Helping my thyroid!
I recently got diagnosed with hypothyroidism, so I decided to give this a shot. I was skeptical at first, but I have to tell you guys, I am truly impressed! My appetite is already back to normal and I've been feeling a lot more energetic. I'll continue to use this and keep you guys updated on my progress 😊
Seamoss Pills
I personally seem to have a lot more energy now. I didn't realize it until recently that I no longer get tired or sleepy during the day! I can't remember the last time I've yawned during the day either. I eat a lot less now as well only about one full meal a day and a juice or snack if I'm hungry again. I take one pill a day instead of the 2 that's recommended. I'll be ordering again!