• Healthy immune system support
• Promote healthy blood sugar levels
• Support healthy blood pressure and cholesterol levels
• Help support healthy iron levels and protect against anemia
• Powerful anti-inflammatory properties
💊 120 vegetable capsules per bottle
Regular price
Sale price
$28.99
Unit price
per
Sale
Sold out
Share
View full details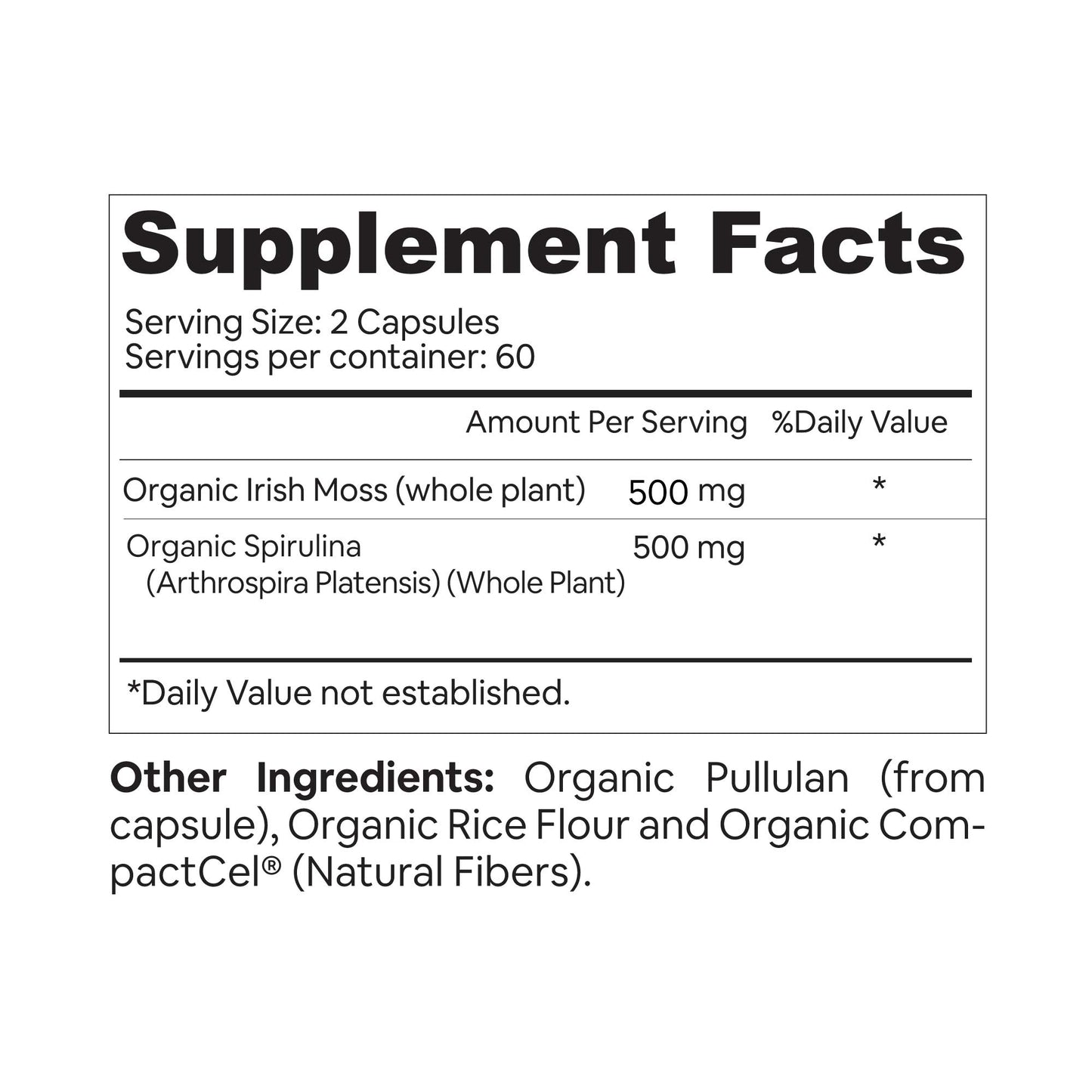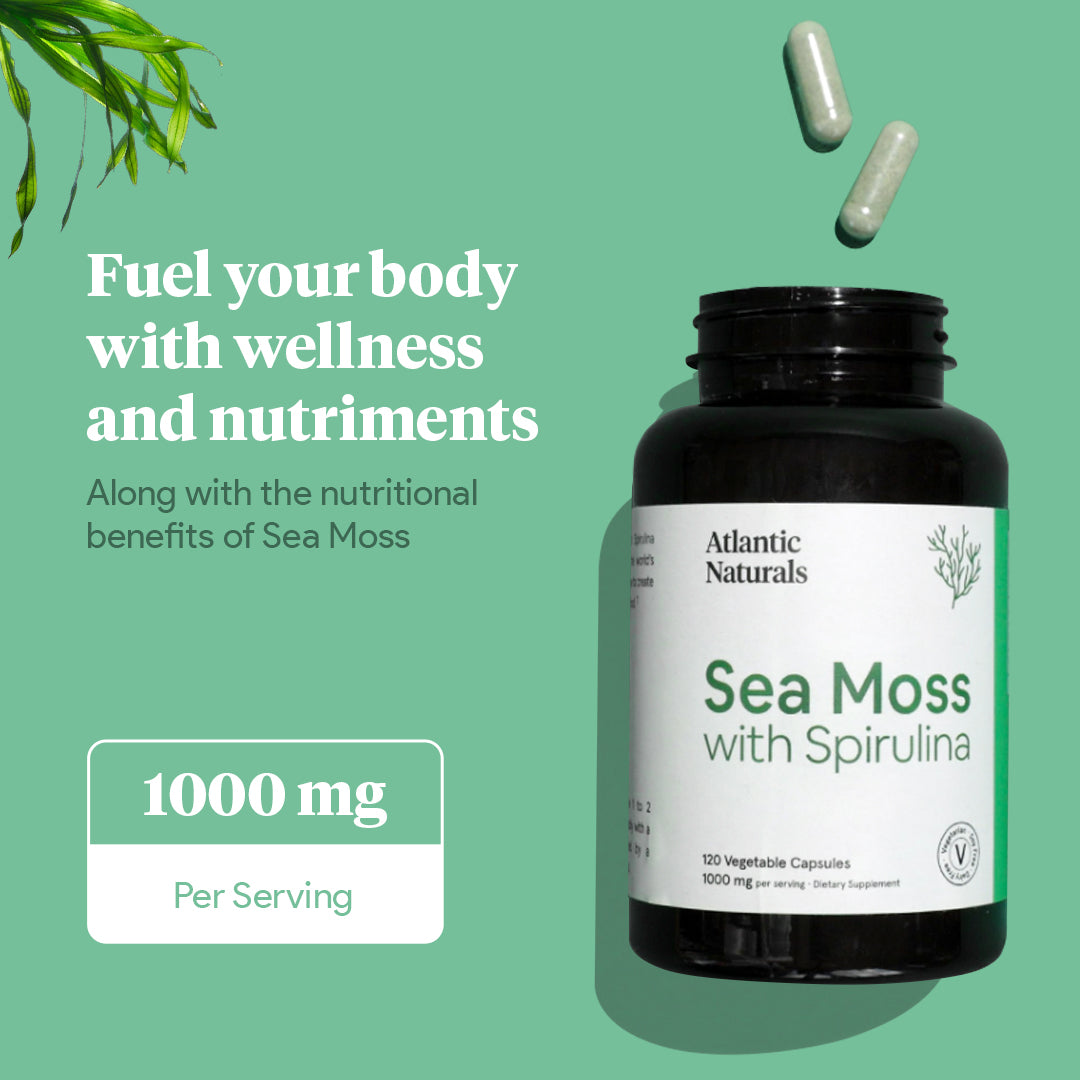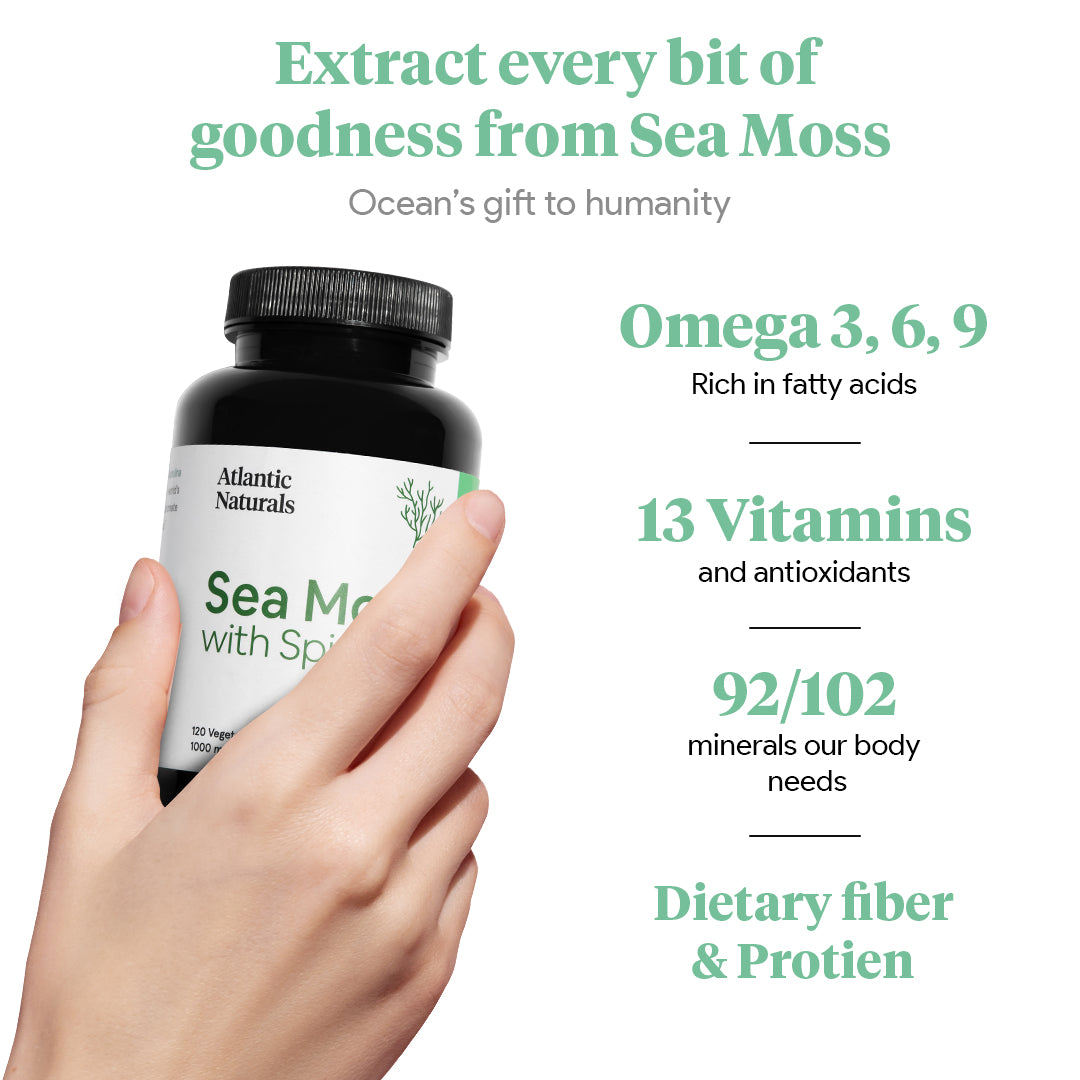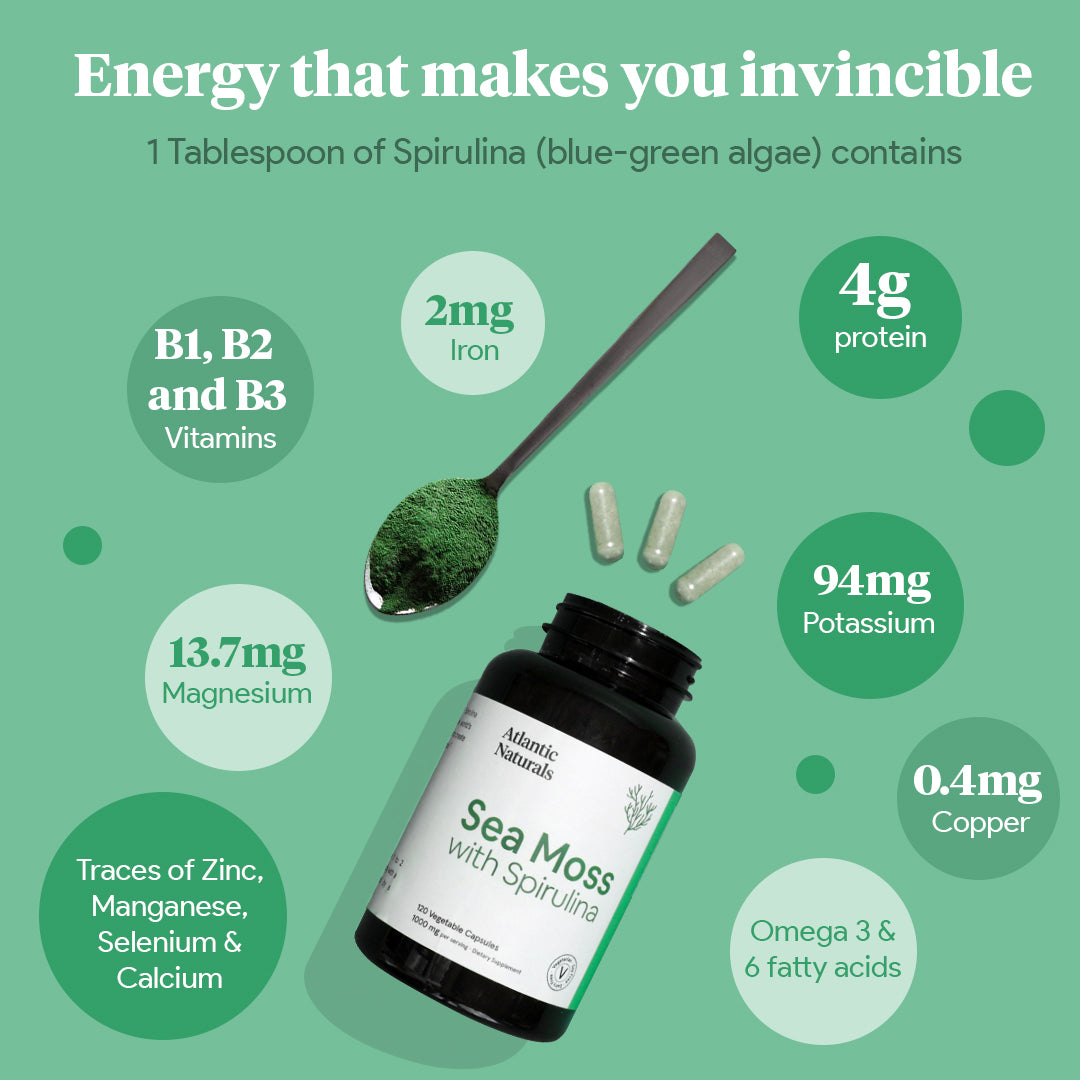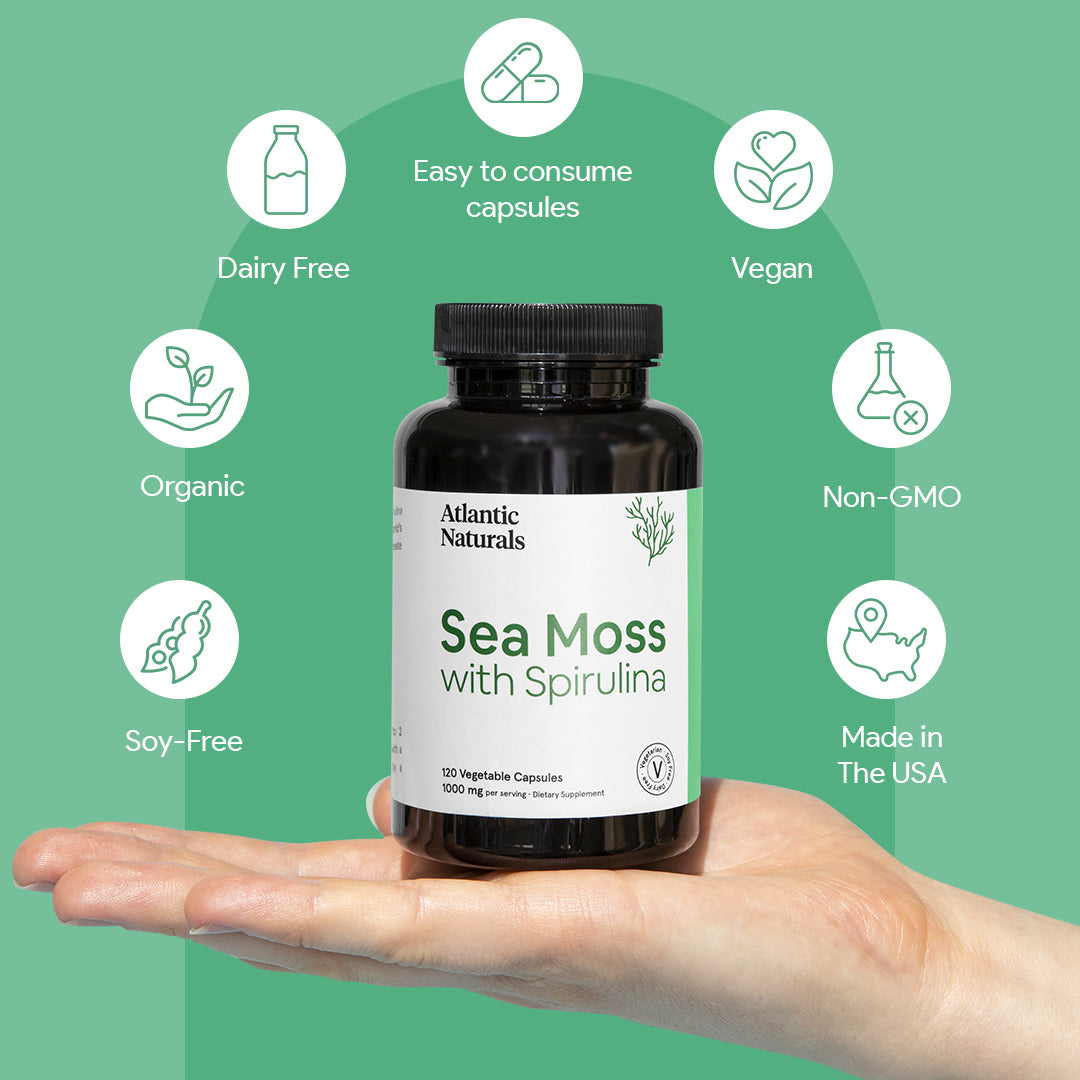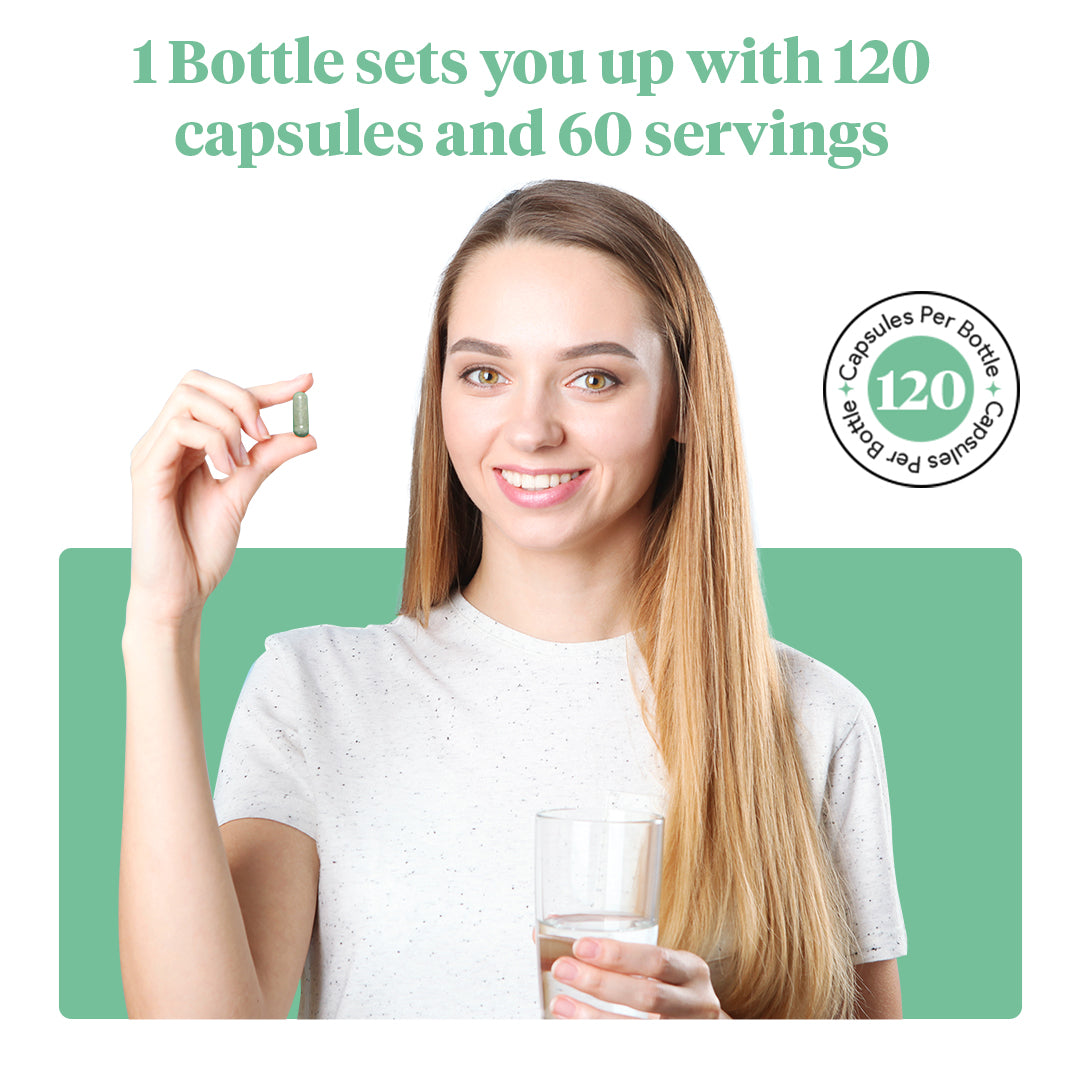 2 powerful superfoods, one unique blend.
Highlights

Our Sea Moss with Spirulina capsules combine the world's two most nutrient-rich algae to create a unique, new superfood.
If you're familiar with Sea Moss, you know its benefits include healthy skin, mucus membrane support and digestive health. In addition, it contains 92 of the 102 minerals our bodies need to function.
We fused this already potent red algae with powerhouse blue green algae—Spirulina.
How to use

Take 2 capsules daily, preferably with food, or as directed by a healthcare professional.
Ingredients

Organic Spirulina Powder, Organic Irish Moss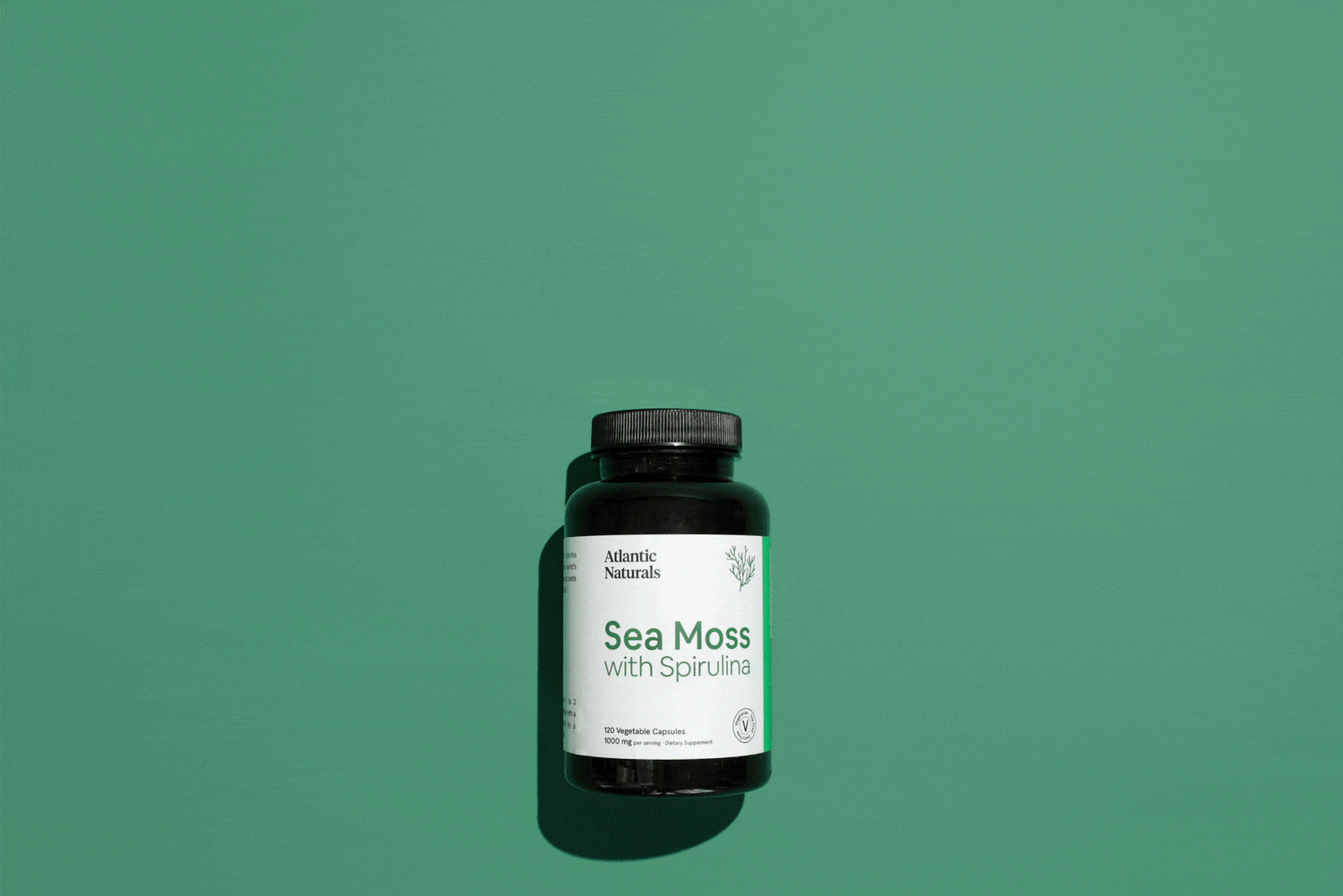 Absolutely packed with nutrients.
First consumed by the Aztecs in the 14th century, Spirulina regained popularity when NASA proposed growing it in space for consumption by the astronauts.

This blue-green algae is rich in protein, vitamins, minerals and antioxidants.

One tablespoon of Spirulina packs a whopping 4g of protein, 2mg of Iron, 13.7mg of Magnesium, 95mg of Potassium, 0.4mg of Copper, Vitamin B1, B2 and B3. It also contains Omega 3 and 6 fatty acids, as well as traces of Zinc, Manganese, Selenium and Calcium.
Read more
Anti-inflammatory

A 2009 study performed by the Chia-Yi Christhian Hospital, showed Spirulina to be effective in helping to alleviate inflammation. Spirulina contains the the biliprotein C-phycocyanin (C-PC) that inhibits the release of histamine by mast cells. In addition, C-PC has been shown to help the pain associated with inflammation.

Read more

Heart Healthy

A 2007 study conducted by the University of Mexico tested the effects of Spirulina on 36 subjects. They ingested 4.5g of Spirulina per day for six weeks. The subjects did not alter their diets during the study. The results showed an overall decrease in blood pressure, as well as a decrease in LDL (bad cholesterol) and triglyceride levels.

Read more

Anemia Support

A study conducted in 2011 at the University of California tested the effect of Spirulina on subjects older than 50 with a history of Anemia. After 12 weeks of supplementing 3g of Spirulina per day, all participants reported steady increases in both red and white blood cell count, as well as higher hemoglobin levels.

Read more

Blood Sugar Support

A 2001 study conducted by the University of Baroda in India examined the effect of Spirulina on Type 2 diabetes patients. 25 subjects were given 2g of Spirulina per day for two months.They recorded an appreciable decrease in both fasting blood glucose and postprandial blood glucose levels. In addition, a significant decrease in Hemoglobin A1c levels was noted—indicating an improvement in long-term glucose regulation.

Read more
30 Day Money back Guarantee
Your happiness and satisfaction with the product is of the utmost importance to us. If for any reason, you're not satisfied with the product, please let us know and we'll issue you a full refund!
Frequently Asked Questions
Where is your Sea Moss from?

Our Sea Moss is wild-harvested from Nova Scotia, Canada.
Is the Sea Moss in your products wild-crafted?

Absolutely! We only use wild-harvested Sea Moss in our products. It is sourced from the Atlantic Ocean in Nova Scotia, Canada.
Where are your products made?

Our products are proudly manufactured in the United States at a GMP and NSF certified facility.
Are your products vegan?

All our products are 100% Vegan and cruelty free.
Is this organic?

Yes, this product is organic. In addition, it is non-gmo, gluten free and great for the environment.
Are your products lab-tested?

Yes, every product batch is first tested for potency, and then tested for pathogens by a third party lab.
How much iodine is in your Sea Moss?

1000mg of Sea Moss which is the usual dose in our capsules contains approximately 75μg of iodine.

To put that into perspective, the recommended daily allowance (RDA) for men and women is 150μg. So our capsules should approximately supply half of your RDA.
How much iron is in your Sea Moss?

1000mg of Sea Moss, which is the dose in our original Sea Moss superfood capsules, contains approximately 2mg of iron. The Recommended Daily Allowance (RDA) for iron is as follows below:

Adult men (ages 19 to 50): 8mg

Adult women (ages 19 to 50): 18mg

Adult women (51 and older: 8mg

Pregnant women: 27mg

Breastfeeding women: 10mg
Do you guarantee your products?

Your happiness and satisfaction with the product is of the utmost importance to us. If for any reason, you're not satisfied with the product, please let us know and we'll issue you a full refund!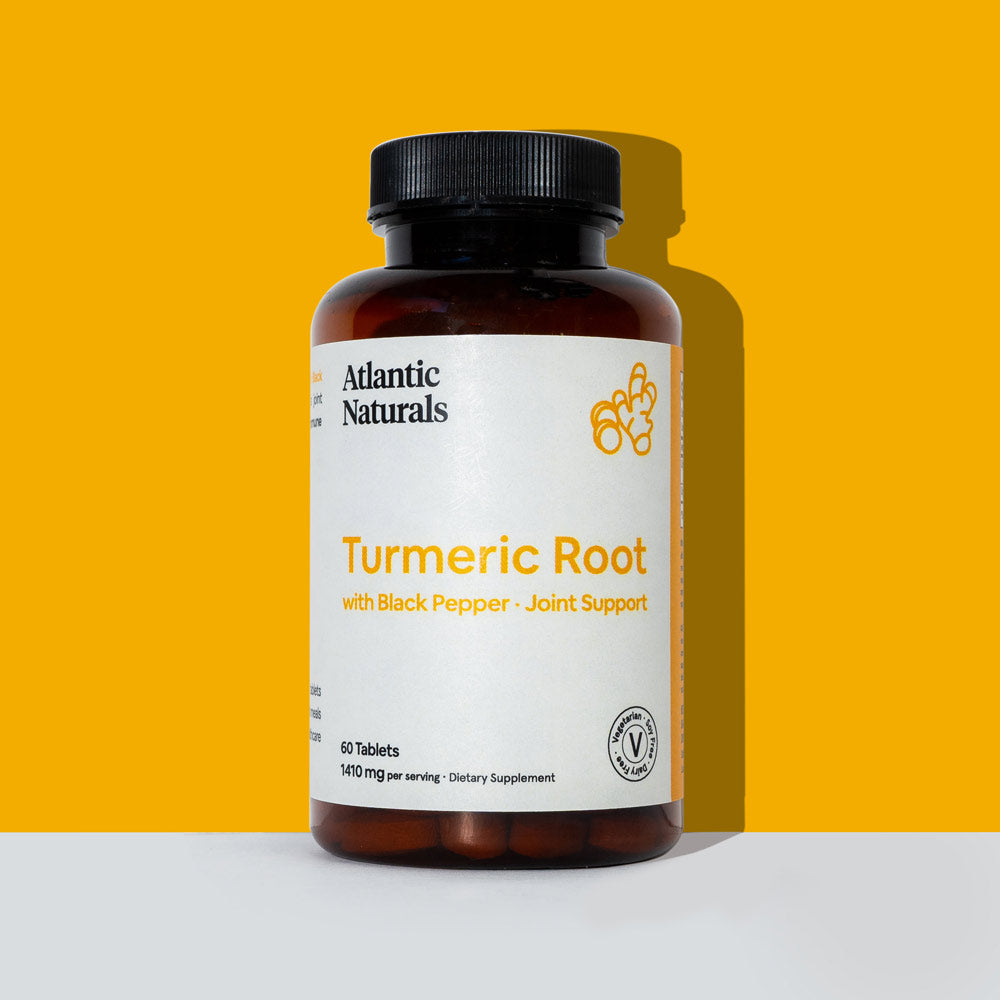 Pair with Turmeric
Support healthy joints and mobility with our Organic Turmeric with Black Pepper formula.
View now
New Beginnings
This product is the start of a new life for me. I actually thought I was sick. I felt horrible. But all my test were negative. Colonoscopy, cat-scans, everything. These pills has me feeling so good. I will be ordering more soon. Thanks for checking in
nice product
Sea Moss should definitely be a staple in everyone's home, this company provides a product that is worth the price & you will start to see a difference in your overall health, body & spirit. Dr. Sebi thank you for the planting the seed w/ NIP we will never forget.
Amazing!
I was curious to see how this product would differ from the original Sea Moss. The effect is very similar, I have better bowel movement like the original, however I've experienced slightly more energy, I'm guessing from the B12 in the Spirulina. Overall, another great product. If you guys keep up the great service, you have a customer for life! 😊
Excellent
I've been taking this since it arrived. I was anemic the reason for my order in the first place. I now feel better and with a lot of energy. I don't even need to drink coffee to keep me up. I've recommended to everyone I know. My mom and my best friends have now ordered a bottle for themselves. I'm addicted ❤️
Very good so far
I've only been using this product for a week now, but I'm excited by the results. I feel a definite increase in energy and overall health. Hoping this supplement will boost my immune system!