• Support joint health and mobility
• Powerful anti-inflammatory properties
• Support healthy skin and bone density
• Promote better heart and brain health
• Packed with antioxidants that may slow aging
• Infused with black pepper for increased bioavailability
💊 60 Organic tablets per bottle
Regular price
Sale price
$18.99
Unit price
per
Sale
Sold out
Share
View full details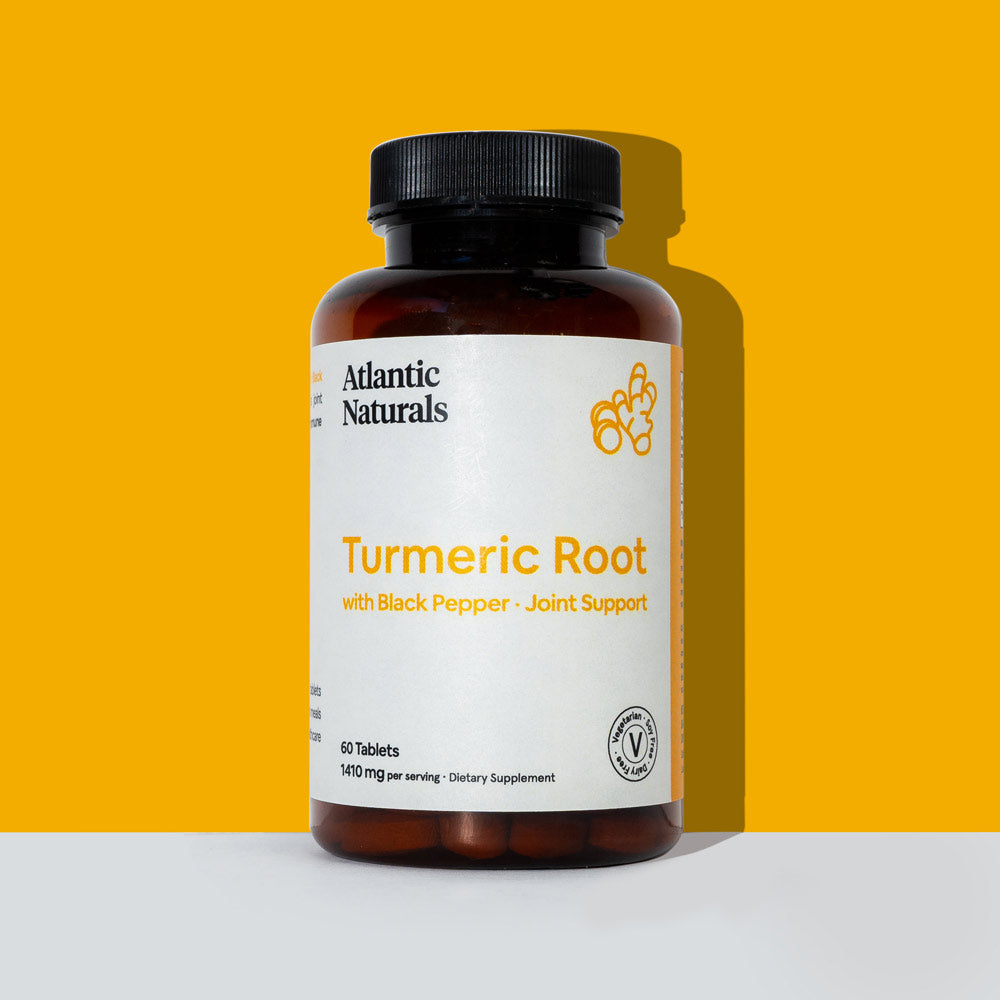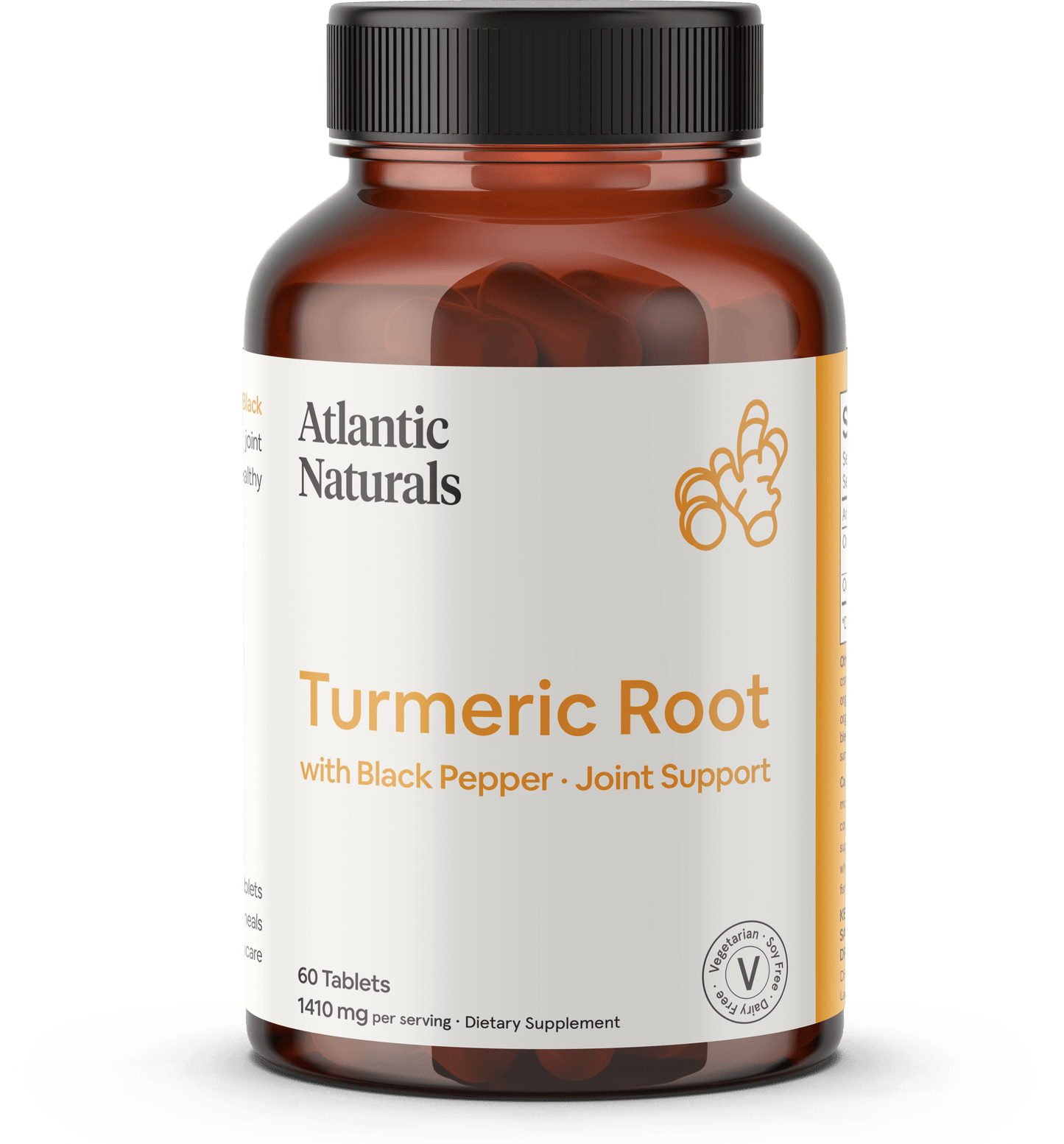 Goodbye Inflammation.
Highlights

One of the oldest natural remedies in Eastern culture, Turmeric has been used for centuries to support joint health, fight inflammation, and even promote cognitive function.

In addition, the active ingredient curcumin in Turmeric is packed with antioxidants that help your skin maintain a youthful glow, and may even help slow down the general signs of aging.

The benefits don't stop there—Turmeric has been known to aid bone density and even support heart health.
How to use

Take 1-2 tablets daily, preferably with a meal or as directed by a healthcare professional.
Ingredients

Organic Turmeric Root, Organic Black Pepper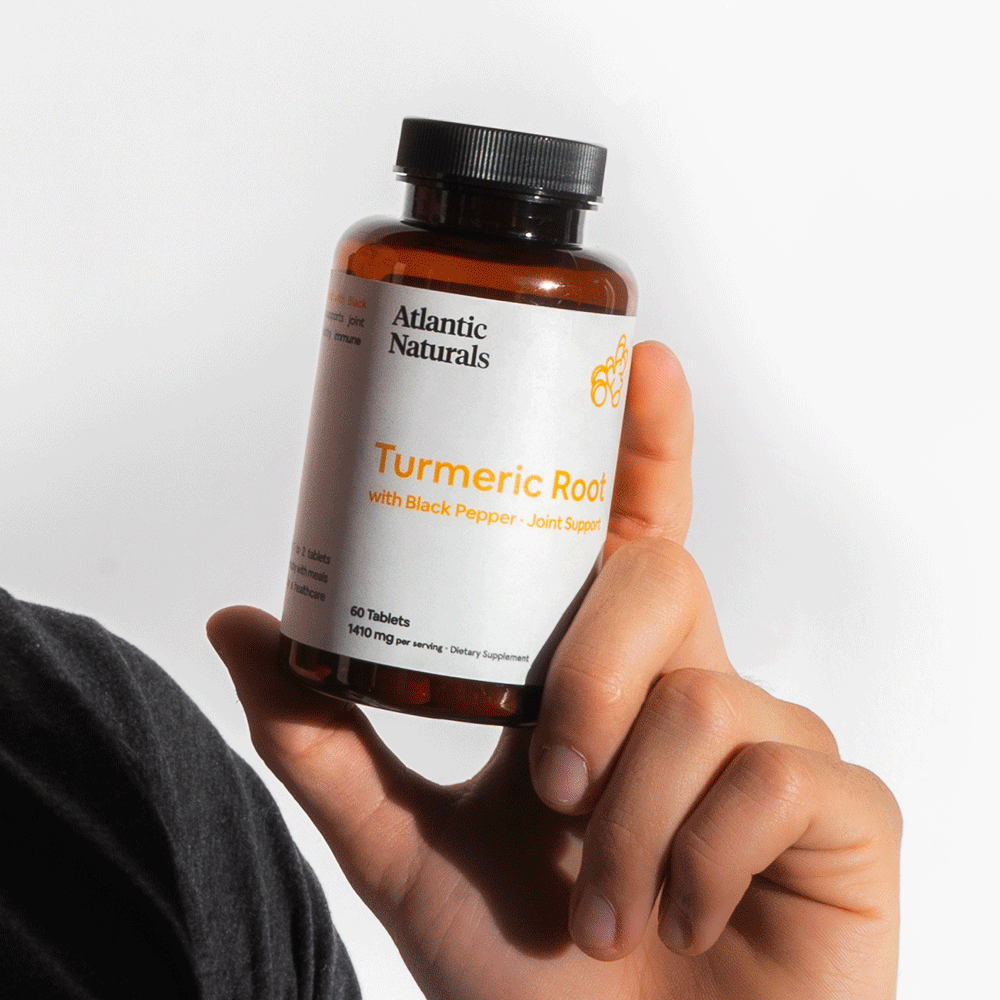 Why does our Turmeric come with a Black Pepper Infusion?
Black pepper contains the chemical piperine. Piperine increases the bioavailability of turmeric. Bioavailability is that a big word that essentially means how much your body can absorb particular nutrients. The piperine in black pepper helps curcumin, the active turmeric ingredient, pass through your intestinal wall and into your blood stream which is where it needs to be to make the most of its nutrients.

You can take turmeric without black pepper/piperine but the effects will be minimal in comparison. We include piperine in turmeric at no additional cost to help your body fully absorb all the nutritional goodies turmeric has to offer.


Read more
Joint Health

Turmeric may improve bone density by up to 7% according to some studies over the course of 6 months. How? Your body has a two-step process for bone health. Step one involves removing older, weaker bone cells to make room for new ones. But over time our body stops replacing the older bone cells. Eventually the bones thin, weaken, and become prone to breakage. Turmeric helps to regulate the body and improves this function.

Read more

Skin Health

Turmeric is most famously an anti-inflammatory, anti-microbial, and antioxidant. Antioxidants help to keep your skin clear, fresh, and glowing. In addition, they may help to slow the general signs of aging and maintain healthy skin energy levels.

Read more

Brain Health

Turmeric has the proven ability to increase a hormone in your brain named BDNF. BDNF regulates your neurons. When healthy, neurons create pathways in our brain that open the flow of thought, logic, and memory. Now should those exciting pathways begin to break down; then you may find a diminished mental capacity. Turmeric may increase the amount of BDNF in the brain to help strengthen those pathways and improve overall brain elasticity.

Read more

Heart Health

The inside of your heart is lined with a thin layer called the endothelial membrane. This membrane produces nitric oxide, a compound that helps blood flow away from your heart. Without this function, you run the risk of clogged arteries, poor circulation, and increase the risk of heart disease. Turmeric has the powerful ability to help improve endothelial function thanks to its anti-inflammatory nature.

Read more
30 Day Money back Guarantee
Your happiness and satisfaction with the product is of the utmost importance to us. If for any reason, you're not satisfied with the product, please let us know and we'll issue you a full refund!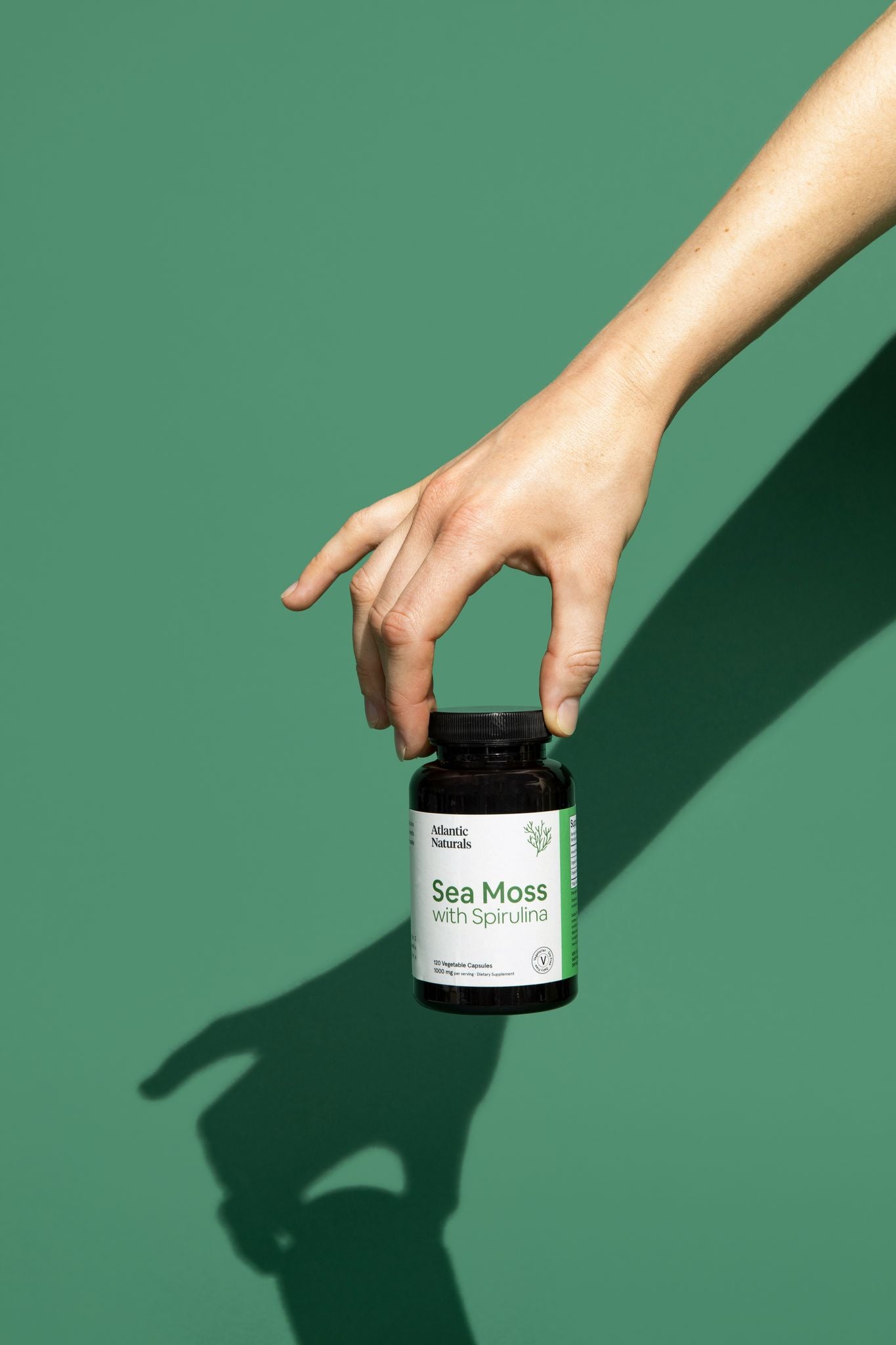 Pair with Sea Moss and Spirulina
Support even healthier joints and better heart health when you combine this product with Sea Moss and Spirulina.
View now
Great Product
I have an exposed tendon in my hand and this Tumeric product has given me so much relief. I 💯 percent recommend this product.
Organic Turmeric Root with Black Pepper | Vegan 1410 mg
A Welcome Addition to my Supplement Regiment
I'm no stranger to Atlantic Naturals at this point with my daily regiment of Sea Moss with Beet Root, Elderberry Immunity and now the Turmeric Root with Black Pepper.
Previously, I could take the aforementioned two on an empty stomach without any issue. But when all three combined in the morning, I'd recommend having some sort of sustenance in your stomach when you do. If not you may experience some mild irritation, but that's been limited.
I would highly recommend this product, as again I've been exposed to multiple close contacts that have been hit with all sorts of illness': flu, colds, C19 and I haven't had as much as some sinus drainage. So knock on wood. But they do seem to bolster my immunity. So thank you Atlantic Naturals for helping shore up my system this year!
Feel the Difference
Very impressed with this supplement! Can actually feel the difference in my joints. I'm not nearly as stiff as I used to be. I also take the sea moss w/ beet root daily. I swear by that as well! I will definitely be purchasing more of both items!! Thank you, Atlantic Naturals for coming up with supplements that you can actually feel the difference!
My Salvation
I was on arthritis drugs for years until I got my new hip in 2017. They made me stop for my surgery, so I switched to turmeric. Of all the brands I have tried over the past 5 years, Atlantic Naturals are by far the most effective and easy to digest. First time ever for me to sign up for a subscription!!