• Support better digestion and easier bowel movement
• Aid excessive gas and bloating
• Support better gut health and a thriving immune system
• Promote increased energy levels
• 5 billion CFU (live cells) per serving
😋 60 delicious vegan gummies per bottle
Regular price
Sale price
$24.99
Unit price
per
Sale
Sold out
Share
View full details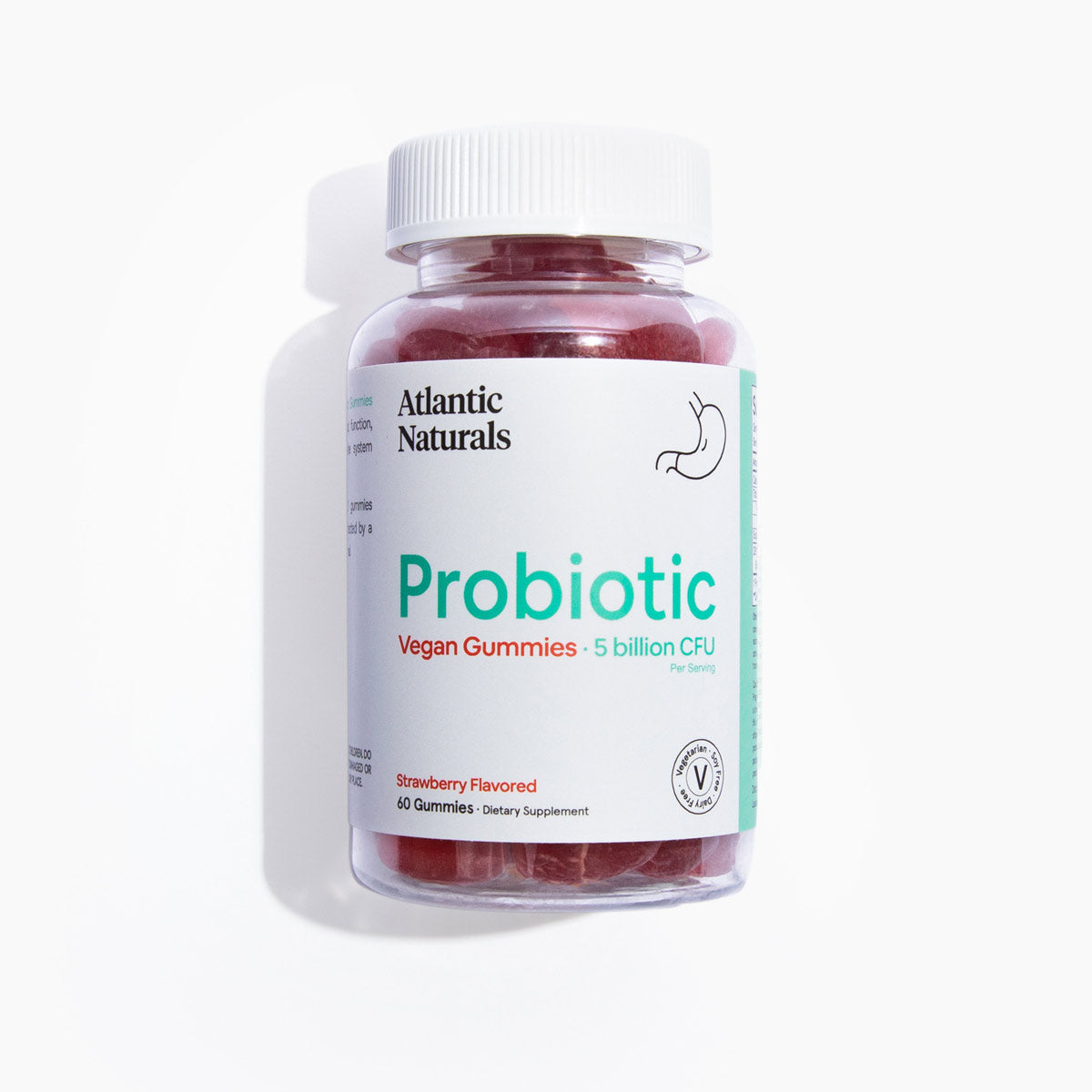 Less bloating, easier pooping.
Highlights

Our Organic Probiotic Gummies help to support better gut health, easier bowel movement, and a healthy immune system. Made from the patented DE111 bacteria—these delicious gummies are 100% vegan and pack a whopping 5 billion CFU (live cells).

Commonly referred to as healthy gut bacteria, these live cells are essential for properly breaking down food and transporting nutrients through the body (less bloating and gas when you eat). They also help to regulate the GI tract and elevate energy levels.
How to use

Take 2 gummies daily, preferably with food, or as directed by a healthcare professional.
Ingredients

DE111 (Organic Vegan Bacillus Subtilis) 5 Billion CFU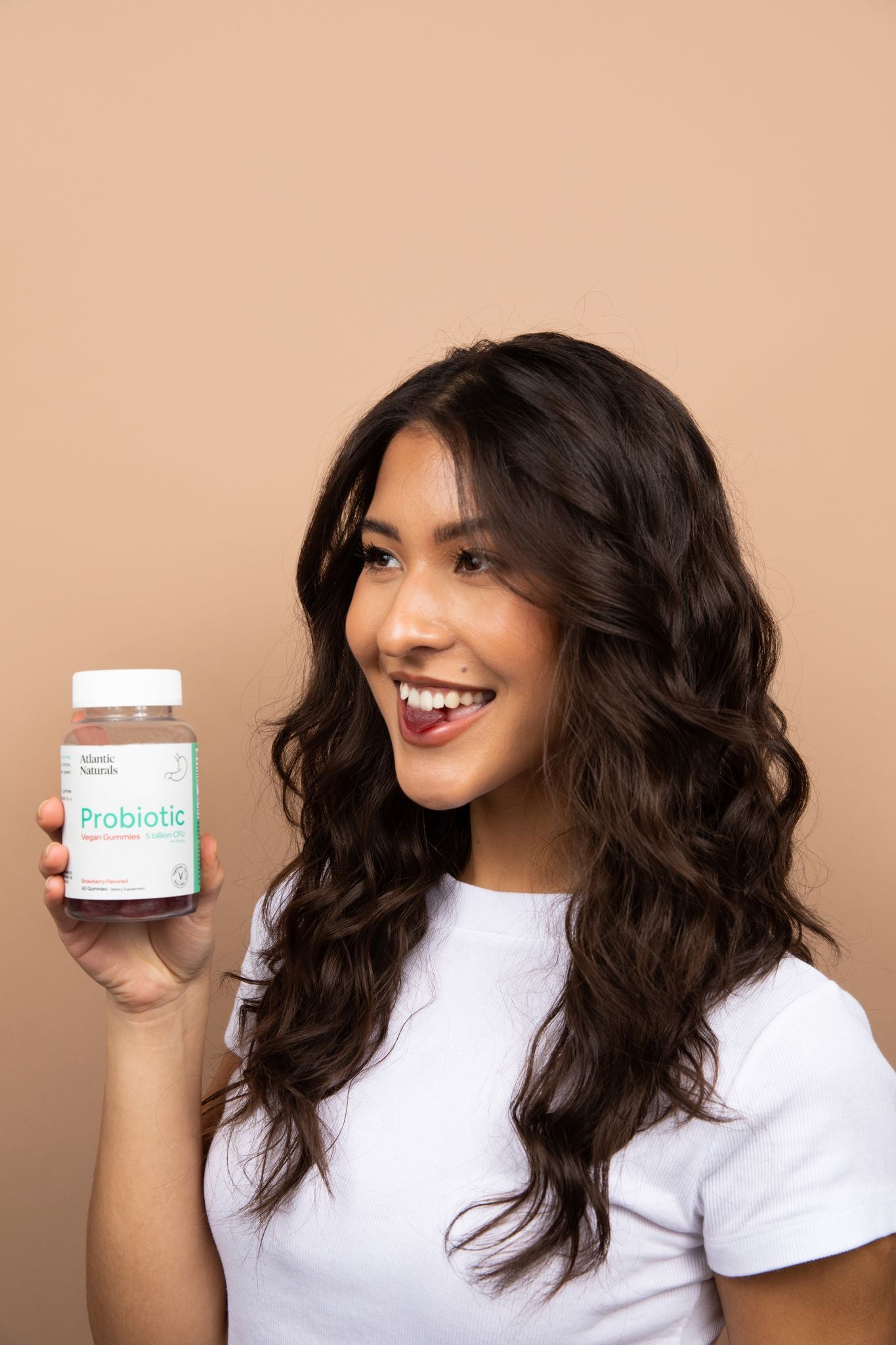 What are probiotics?
If this is the first time you're hearing about probiotics, relax...you're not alone! There are some bacteria that are bad for our body, and we must do everything within your power to keep them out, however, there are also 'good' bacteria that our body desperately needs to function.

Probiotics are live microorganisms, including bacteria and yeast which are great for our body—usually consumed through fermented foods or supplements. They help us maintain a healthy digestive system by supplying our body and lining our gut with helpful bacteria. This, in turn, leads to a healthy digestive system and better overall health. Furthermore, certain probiotic strains can help to keep our heart healthy by supporting in-range blood pressure and cholesterol levels.
Read more
Promote Gut Health

Our Vegan Probiotic gummies are made from DE111, a clinically studied strain of Bacillus subtilis. This specific strain helps to support the growth of good bacteria in the gut, while crowding out undesirable bacteria. This leads to easier digestion, less bloating, and a healthier digestive system.

Read more

Regularity

A 2017 Study published by the Journal of Probiotics and Health demonstrated the ability of Bacillus subtilis DE111 to improve occasional constipations and/or diarrhea in healthy individuals.

Read more

Body Composition

A study conducted in 2018 by Lipscomb University showed DE111 to improve body composition. Researchers found that supplementing DE111 along with adequate post-workout nutrition can reduce body fat percentage and aid athletic performance.

Read more

Immune Health

The gut is responsible for 25% of the immune cells in the body—furthermore, it accounts for 50% of the body's immune response to foreign invaders. A healthy gut equates to a strong immune system and better overall health.

Read more
30 Day Money back Guarantee
Your happiness and satisfaction with the product is of the utmost importance to us. If for any reason, you're not satisfied with the product, please let us know and we'll issue you a full refund!
Pair with wild-harvested Sea Moss
Sea Moss is loaded with pre-biotics, the fuel for pro-biotics which increases healthy gut bacteria and promotes bowel movement.
View now
Organic Probiotic Gummies | Vegan 60ct
Excellent Gummies
The Gummies are excellent and they work well.
I love these gummies
I am obsessed. They are the best tasting vegan probiotic gummy I have had! A must buy
Really sweet
These are very good, but would still be way better if they were half as sweet.
I enjoy them!
Taste good and does their job!